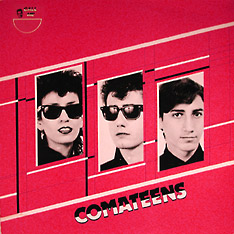 French Release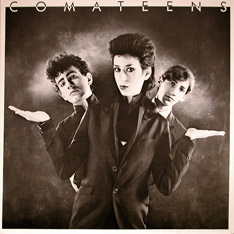 US Release
Label:  Call Me / Barclay # BA253 200 180
 Released: France, Spring 1981
Label:  Cachalot Records # CA 124
Released:  USA, Fall 1981
The band's first album all their own; nine original songs plus two covers; one by DAVID BOWIE and the other by JOHN SEBASTIAN.
Recorded on budget of $3,000 at ADR studios, a small 8 track facility in Midtown Manhattan.
During these sessions they also recorded their version of The Munster's Theme which was later included on the American release of this album, and went on to be one of their most popular recordings.
Produced by COMATEENS & FABRICE NATAF.
Recorded at ADR Studios, New York USA, December 1980.
Engineered and mixed by DON WERSHBA, assisted by SAM AGAR.
Keep The Pace and Raceway recorded at MediaSound Studios, New York, June 1980. Engineered and mixed by DON WERSHBA.
COMATEENS photographed in New York by JOE STEVENS

 Personnel:
LYN BYRD: Vocals, keyboards
NIC NORTH: Vocals, bass, keyboards, percussion
OLIVER NORTH: Vocals, guitars
ROLLY: Percussion
JEFF ZILM: Drums on Keep The Pace and Raceway

1 Ghosts
2 Keep The Pace
3 Overseas
4 Late Night City
5 Summer In The City
6 Cool Chick
Band
Nic / Lyn
Nic
Nic
Nic
Lyn
7 One By One
8 Strangler
9 All Ways
10 TVC 15
11 Raceway
Lyn / Nic
Band
Nic / Oliver
Nic
Nic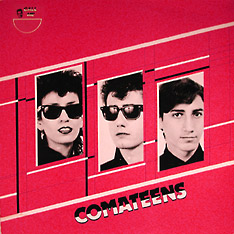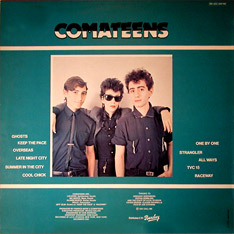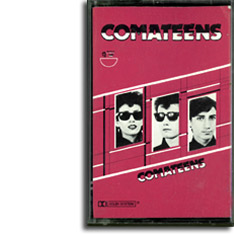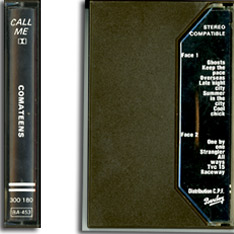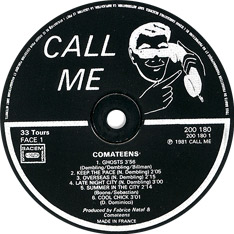 1 Ghosts
2 Late Night City
3 One By One
4 TVC 15
5 All Ways
6 Summer In The City
Band
Nic
Lyn / Nic
Nic
Nic / Oliver
Nic
7 Nightmare
8 Strangler
9 Overseas
10 The Munsters Theme
11 Cool Chick
12 Raceway
Lyn
Band
Nic
Instrumental
Lyn
Nic