The Comateens' press kit, in this pre-computerized age, was far more extravagant than most of the other bands struggling in the the late '70s. The memorable package was indispensable in helping the group get booked for their early gigs.
Most club managers routinely tossed other band's press kits in the trash, but they held on to this package, mostly for the little "toys" included.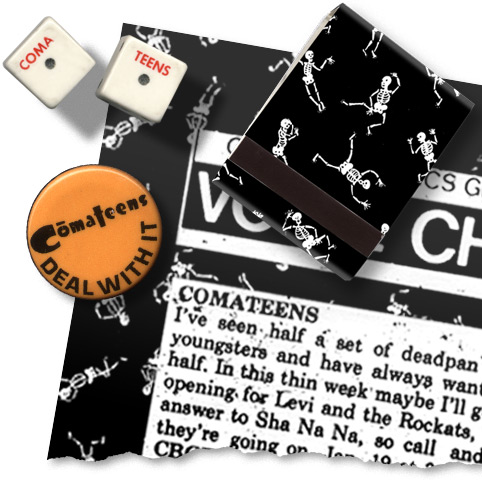 The kit featured, an accordion fold timeline that charted the activities of the band using a graph similar to one used for tracking stocks.
The graph line would zig-zag up or down according to the relative success of a listed entry or gig. The package included press, a promo photo, a cassette sampler, Coma-dice, dancing Skellington matches and individual "biographs", including one for Rolly, their drum machine.
Everything was packaged in a 1/4 inch reel-to-reel magnetic tape box lined with end papers showing an image of strewn Coma-dice and a cassette tape with the bands contact info.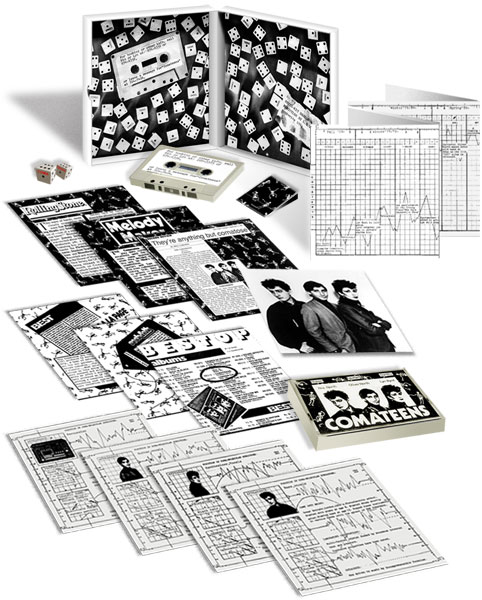 The kit was designed by Lyn Byrd, and produced using the Xerox 9500, the only copier machine she could find at the time that could re-produce solid black while still maintaining bright white.
The band constructed the press kits by hand, creating a 3-man assembly line at the kitchen table in Nic and Oliver's parents apartment. Backgrounds were scavenged from their Dad's library of technical books, and plain white matchbooks were not printed, but papered over with dancing Skellingtons by hand.