01/83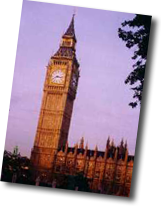 Comateens arrive in London to record the Pictures On A String album. Record basic track of Crime Time on first day.
02/83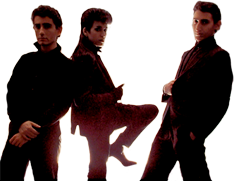 Continue recording and mixing album. Shoot photos for the Pictures On A String album cover.
 03/83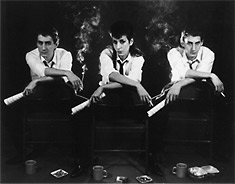 Finish sequencing and mixing the album. Photographed by Mike Laye for Virgin publicity photos. Shoot a glamorous video, directed by Russell Mulcahy, for The Late Mistake.
04/83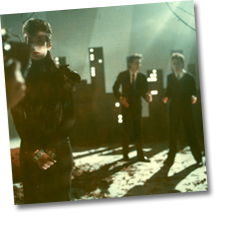 Director Russell Mulcahy calls the band's manager to tell him that the one and only copy of the Late Mistake video was stolen out of his car. This is considered a likely story by all. The only surviving image from the lost video (above). Comateens are now back in NYC, rehearsals at 88 St. Release new album.
05/83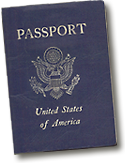 Leave New York for London to shoot a new video for Late Mistake. Because of lack of work visas, Comateens are allowed only one night in London and are then escorted onto a plane by immigration officers to be deported back to the US. Just released, Pictures On A String receives a great review in the UK Melody Maker.
 07/83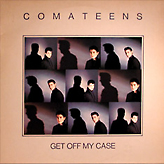 Get Off My Case in continued heavy rotation on WBLS FM and WKTU FM New York. Rehearse new songs and give an interview for a German music magazine.
08/83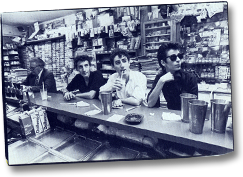 Feature article, with pictures, about the Comateens and New York appears in the glossy French Rock & Folk magazine. Meet with top level Polygram Records executives to mark the signing of the US distribution deal. Continue rehearsing new songs.
09/83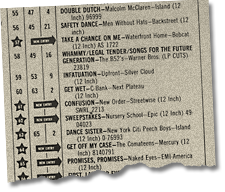 Begin rehearsals with new drummer Ben Margulies, at a new rehearsal studio, 12 West End Studios, also home to the B52s, Blondie and Luther Vandross. Get Off My Case makes the charts and Pictures On A String garners a Top Album Pick in Billboard Magazine.
09/83 
Comateens film a video for Get Off My Case at the old train terminal in Hoboken NJ, with Brit Bernard Rose directing. Drummer Ben Margulies, who just joined the group, can be seen playing a conga drum in the video. A second video for The Late Mistake with a vampire theme, was shot on day two, at the same location, to replace the one lost in the UK.
10/83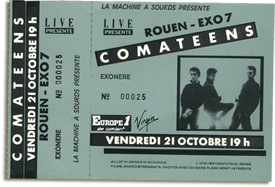 Begin European tour; play La Salle Du Mole, Geneva, Switzerland, travel to Toulouse, Montpellier, Aix En Provence, Lyon, Paris, and play at Exo 7 in Rouen, France.