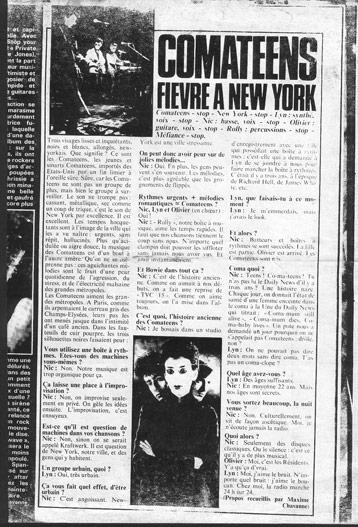 1981
From an unknown French publication, possibly Salut!
Comateens New York Fever
Q: You use a rhythm box. Are you machines youselves?.
Nic:: No. Our music is too organic for that.
Q: Does the box leave a place for improvisation?
Nic: No, we only improvise in private. Then we jell the ideas. Improvisation is annoying.
Q: Are your songs about machines?
Nic: No, if they were we'd be called Kraftwerk. Our songs are about New York, our city, and the people who live there.
Q: An urban group, then?
Lyn: Yeah, very urban.
Q: What effect does that have on you, being urban?
Nic: It's anxious. New York is a stressful city.
Q: You can be afraid on some nice melodies…
Nic: Yes. What's more, people can remember them. Melodies are more agreeable than banging around.
Q: So urgent rhythms + romantic melodies = Comateens?
Nic, Lyn and Oliver together : YES!
Nic: Rolly, our rhythm box, loves fast tempos. It's important that our songs practically play without us, no matter what other nonsense is going on.
Q: And David Bowie, in all this?
Nic:: It's the old story. Since we liked him when we were starting out, we did a cover of "TVC-15". And since we still like him, we put it on the album.
Q: What is the history of the Comateens?
Nic: I worked in a recording studio with a girl who had a rhythm box; it was her who asked Lyn to join the group, so she could operate the box. That was 3 years ago, during the era of Richard Hell, James White, etc…
Q: Lyn, what were you doing in those days?
Lyn: I was bored out of my mind, but I had the look.
Q: And so?….
Nic: Drummers and rhythm boxes came and went. The girl left, Oliver joined. The Comateens are born.
Q: Coma what?
Nic: Teens! Co-Ma-Teens! You didn't see the Daily News article 3 years ago? A weird story. Each day, they gave a report on the health of a comatose pregnant woman in the headlines of the Daily News…Coma mom still alive…Coma mom dies….Coma baby lives… A pal of ours said to us one day
"Why not name yourselves the Comateens?" Funny, no?
Lyn: Now we can't say two words without saying "coma". Do you have a comacigarette?
Q: How old are you?
Lyn: Old enough.
Nic: Average of 22. But our ages are secret.
Q: Do you go out a lot at night?
Nic: Nah…culturally I live in a very ascetic way. For example, I never listen to the radio.
Q: So what do you listen to?
Nic: Classical records. Or silence; that's the most musical thing.
Oliver: For me, it's The Residents. And that's the truth.
Lyn: Me, I love noise. Doesn't matter what noise. At my house the radio is on 24 hours a day.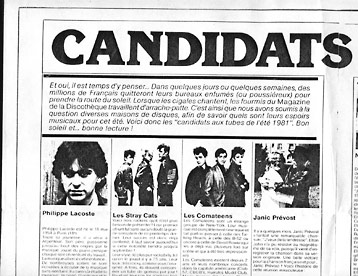 1981
Check back for press translations.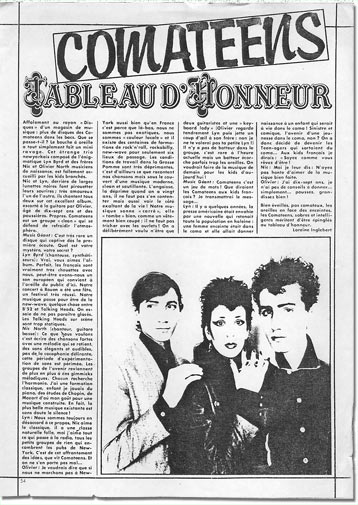 1981
Check back for press translations.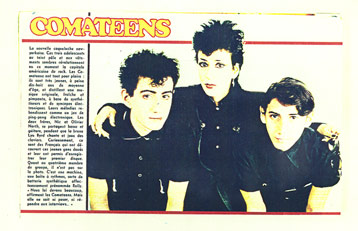 1981
Check back for press translations.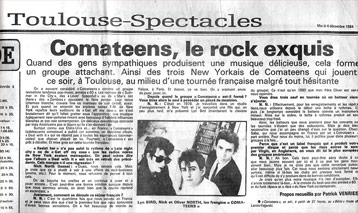 1984
Check back for press translations.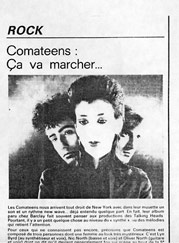 1984
Check back for press translations.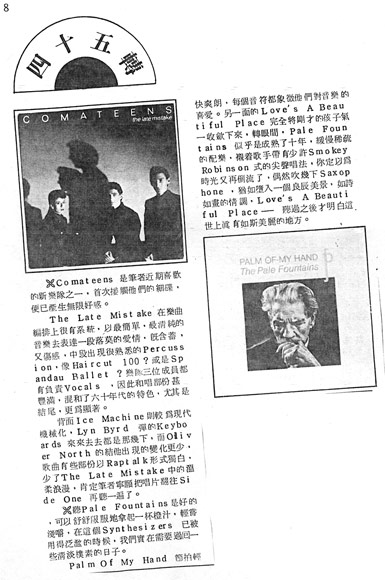 1983
These short write-ups from publications in Japan, Denmark, Italy and Greece are a sampling of the international press coverage the band received. We don't know what most of these items say, and we are not sure we want to, but if anyone wants to translate these items and send them to us, the mystery will finally be solved.