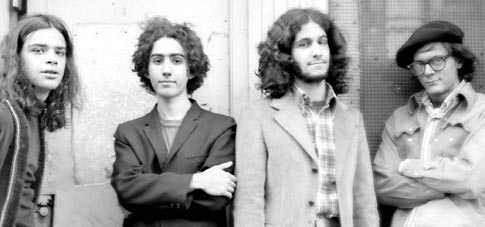 The Eels 
1975, New York. The Eels, (left to right) JERRY AGONY, NIC NORTH, CHRIS CLARK, and CHRIS MOYER. One of the first of various bands that Nic performed in.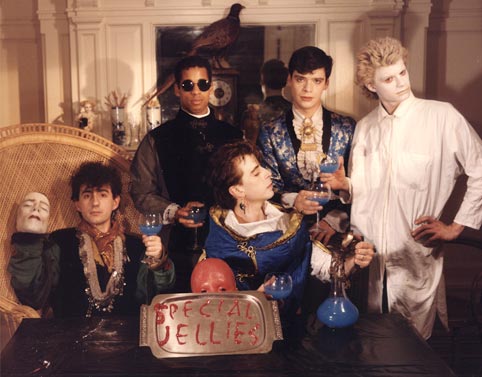 Special Jellies
1979, New York. The Special Jellies, (left to right seated) NIC NORTH and CHRIS CUNNINGHAM. (left to right standing) STERLING CAMPBELL, JERRY AGONY, and ERIK SANKO.
This photo was taken in an upper west side apartment in Manhattan. Nic had moved from playing drums with the Eels to playing keyboards in this band, once again paired with guitarist Jerry Agony. Special Jellies featured up and coming musicians early in their respective careers.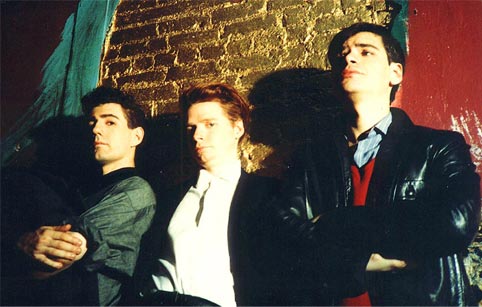 Stigmatics
1990, New York. The Stigmatix (left to right) NIC NORTH, JAMES CHANCE, and JERRY AGONY.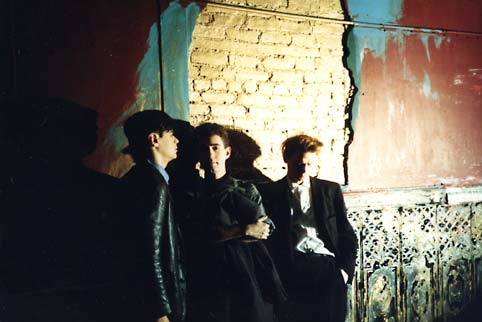 Stigmatics power trio. Nic teams with long time collaborator, guitarist Jerry Agony, playing bass and keyboards alongside saxophonist James Chance. Demo's were recorded at Lyn's uptown apartment in Manhattan while she slept the day away. The trio went on to record a fabulous single, "Nice Guys Finish Last", for which a music video was filmed.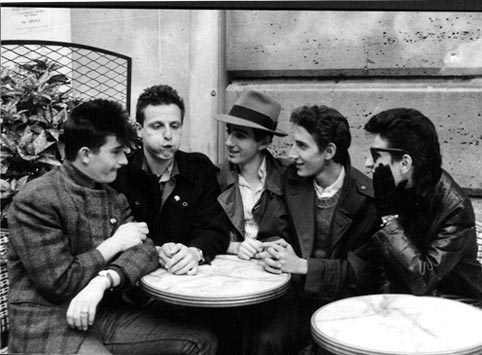 Bill Baxter 
Good friends: In Paris, 1983, with two members of the French pop band Bill Baxter. (left to right) BO GESTE, LUIS PRIMO, NIC WEST, OLIVER NORTH, LYN BYRD.
Bill Baxter and Comateens were both managed by FABRICE NATAF, and quickly became thick as thieves. When not working with his own band, lead singer Luis Primo toured France with the Comateens as driver, road manager, and the most patient roadie that ever lived. The bands admired each others music, wined and dined together both in Paris and NY, and attended each others shows. When the 'Baxters began to generate hits, and Luis could no longer help out on the road, no one was more pleased than the Comateens.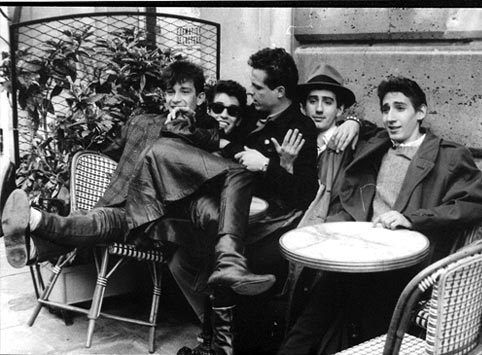 Typical behavior: A good reason to keep these bands out of your sidewalk cafe. In 1985 the 'Baxter's starred in a French musical based on Billy Wilder's '60's romantic comedy film, "Kiss Me Stupid". They scored a hit with the title track "Embrasse-moi Idiot", and went on to continued success, recording with with Dancehall/Reggae star Tippa Irie on Bienvenue à Paris, and starring in another musical, El Segundo, before deciding to form their own multimedia studio.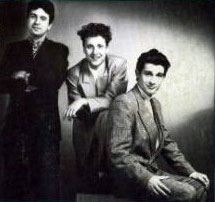 Not clowning for a change: (left to right) JOE COOL, LUIS PRIMO, BO GESTE.
For more info on Bill Baxter go to: www.bide-et-musique.com/bill_baxter.html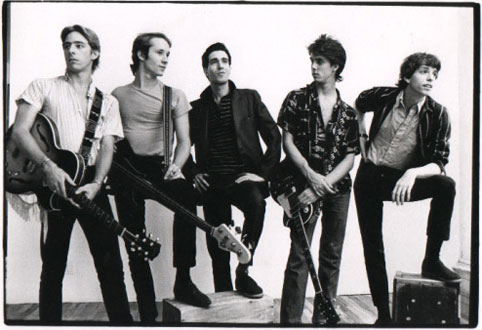 The Rousers 
The Rousers 1978, NYC's finest punk-a-billy band: (left to right) BILL DICKSON (guitar, vox) JOHN HANNAH (bass) JEFF BUCKLAND (lead vox) TOM MILMORE (lead guitar) JERID O'CONNELL (drums).
Comateens and Rousers were fixtures in each others lives, and Bill Dickson described Comateens as a sort of "sister band" to the Rousers. One of Bills' hobbies was coming up with twisted names for bands.
When he spied a then-current NY Post headline: MAY LEARN HOW COMA MOM DIED! from a story about a woman who fell into a coma while pregnant, he assumed that the coma-mom's child would grow up to be a "coma teen". When Nic and Ramona were trying to come up with a name, Bill proposed his idea. Macabre, kitschy, dark and light simultaneously, they thought, "why not?".
(Above) Great publicity photo of these hard rocking kings of twang. Lead singer Buckland (3rd from left), was then Lyn Byrd's boyfriend, and lead guitarist Tommy Milmore was Ramona Jan's. Dickson (far left) main songwriter and rhythm guitarist, is the person to blame for coming up with the name "Comateens".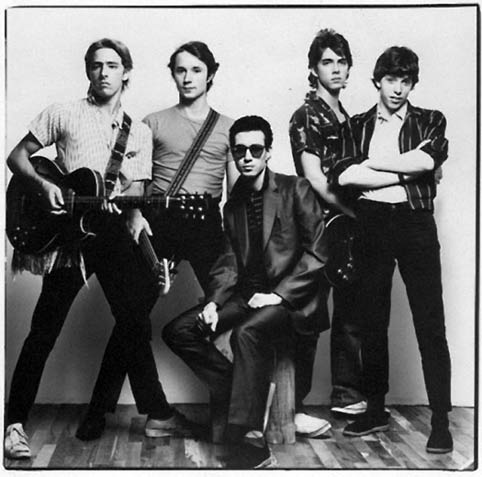 These toublemakers lived at The Rousers Clubhouse, located at 4 St. Marks Place, right above Trash & Vaudeville, the East Village stage gear boutique no band could live without. The raw space was minimally habitable, so that Buckland (center) decided to simply pitch a large camping tent in his "room" due to lack of walls and the threat of vermin.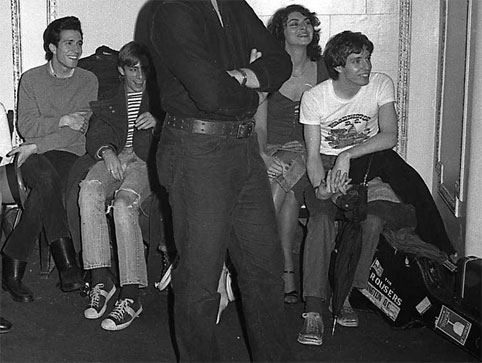 Highly amused: (left to right) Buckland, Dickson, Milmore (behind headless man), Hannah's girlfriend Cory Whittier, and O'Connell. Rousers Buckland and Milmore watch Lyn and Ramona, their very own Coma-girls perform, during Comateens first gig at the New Wave Vaudeville Show in NYC's Irving Plaza theater, 1978. The boys had no clue at this time that their girlfriends would become serious contenders.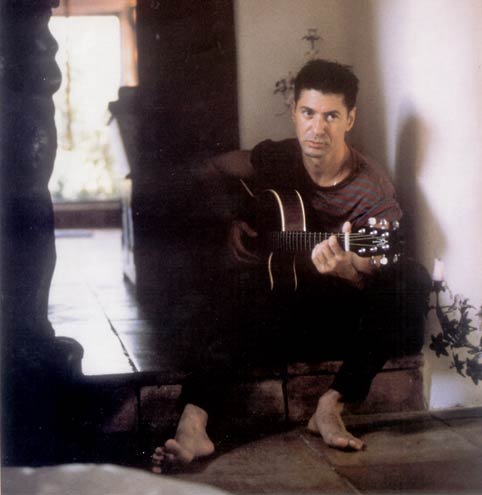 Etienne Daho 
A good portrait of the French pop master relaxing with his guitar. Etienne has been our friend and accomplice for over 24 years now. We shared the same manager and the same struggle in the early days, and over the years have worked with great pleaasure on each other's music. Most think of him as a sophisticated and elegant music star. We know him as he really is; an extremely down-to-earth and, let's face it, silly person — if you want to know more, here's a great English language summary of Etienne's career from RFI Musique: RFI Bios
Etienne Daho's official site: Etiennedaho.com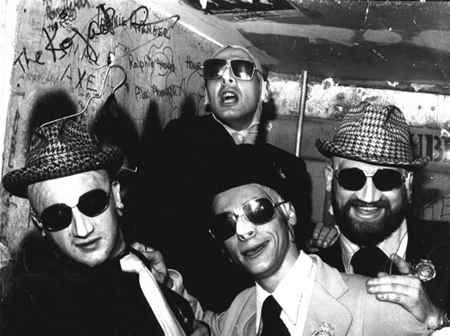 The Fabulous Kojacks
NYC, 1979, CBGB dressing room: Dressed like the famous Telly Savalas character in the '70's TV show "Kojack", complete with bald-head wigs, sunglasses, lollypops, and large flashy pinkie rings, The Fabulous Kojacks were often the opening act for the Laughing Dogs.
In the middle of the punk/new wave scene, the Kojacks were a swing group, doing performances of punk, hard rock, and heavy metal tunes in the style of Frank Sinatra and other Las Vegas performers.
The Eels, with Nic on keyboard instead of drums, served as the Kojacks back-up band for their debut show at CBGB. After this, they developed a full Vegas-style orchestra. The rumor was that the Kojacks were an alter ego of the Laughing Dogs, disguising themselves as another band in a ploy to avoid paying for an opening act.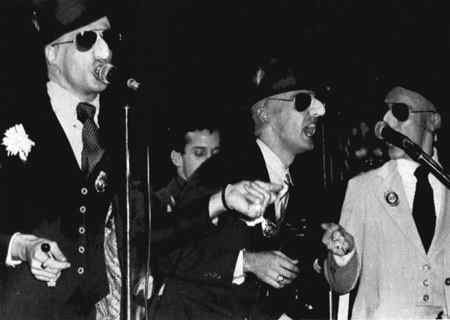 "Who loves ya baby!" NYC, 1980, 3 members of The Fabulous Kojacks on stage at Hurrah. Billboard magazine described them well: "their modus operandi includes Las Vegas lounge-style versions of such punk-rock classics as ELVIS COSTELLO's 'Watching the Detectives' and the RAMONES' 'Blitzkrieg Bop' (retitled 'Blitzkrieg Cop' for the occasion)".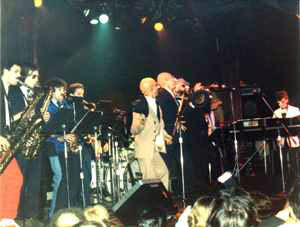 NYC, 1979, Bottom Line: Performing with the Kojacks are members of the Buddy Rich horn section, and their backup band, the Jack-Offs, which included Nic (far right in white) on keys.