There have been countless individuals — Managers, Producers, Promoters and friends, who over the years have helped support the Comateens. Here we list some of the most notable, shown in order of their involvement with the band.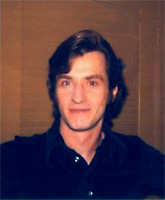 PETER CROWLEY
Peter Crowley, NY transplant and mentor to many, was a vital component of NYC's early downtown music scene. Peter booked the bands at Max's Kansas City from his dingy office on the upper story of the club on 19th street and Park Avenue South. He visited CBGB's where the Comateens were auditioning and told them to stop by his office with whatever tapes and promo they had, resulting in the bands first ever "official" gig. He not only supported the Comateens, but nearly every other band on the scene at the time, truly "The Principal of Rock 'n' Roll High School."
Some facts: After the closing of Max's Kansas City, Peter worked with Tommy Dean on a new venture of the same name, which opened on 52nd street in the late 90's. Unfortunately the new location was not exactly right for the kind of controlled anarchy that Peter was so skillful at managing and the place closed in 2000. He's currently involved in record production in Florida, and is also collaborating with Thomas "thomaxe" G. on a book about the original NY underground rock/punk scene.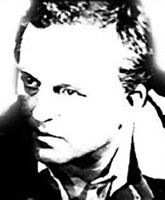 MARTY THAU
A key figure in the story of the band, Comateens made their very first album appearance in 1980 on Marty Thau's "Marty Thau Presents 2X5", a seminal album of underground New York rock featuring five bands doing two songs each. This album, produced by Blondie keyboard master Jimmy Destri, was to give Comateens their first shot in the music biz arena.
Some facts: In the late '60s Marty Thau was a highly successful promotion executive for Buddah Records in New York and was responsible for some of the most popular "bubblegum" hits of the day.
He then went on to discover and manage the New York Dolls as the NY underground scene took hold. A true music business visionary, in addition to his involvement with the Dolls, Thau also produced the Ramones first demos and started his own label, Red Star Records, which released classic albums by the likes of the Real Kids and Suicide.
He currently is involved in producing a blog, focusing on thoughts on culture, politics, music and stuff, along with co-producers Eric Olsen, and Mike Crooker.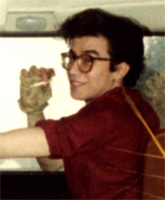 FABRICE NATAF
This ambitious entrepreneur first saw Comateens at a gig in NY while scouting for bands to sign. He accompanied the band through their early years, facing run down dressing rooms, freezing minivans, irate hotel staff, nutty fans, industry sharks, and getting lost on the twisty fog-shrouded back roads of the French countryside while touring. His incessant practical jokes backfired one day when he informed the band that someone had broken into the mini-van and stolen all their equipment. Comateens and most of the road crew just laughed in his face and continued eating lunch. Then the police showed up.
Some facts: Established French label, Call Me Records, signing Comateens as one of the labels first artists. Continued on as their manager, as well as managing French artists Bill Baxter and Etienne Daho. During his tenure as Artistic Director of Virgin France Records, worked with the duo West & Byrd on their first album release. Currently Chairman of EMI Publishing in France.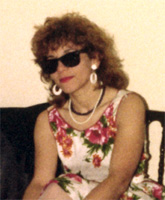 NICOLE SALLER
Nicole was possibly the sweetest member of the Comateens support team. Tour budgets were invariably tight, so she and Lyn Byrd shared some tiny hotel rooms and froze to death together in various unheated ice-boxes also known as dressing rooms and touring vehicles. She also welcomed the trio of moody black-clad New Yorkers to sleep on the floor of her apartment when necessary, enduring all manner of band-related mayhem with warmth and a smile.
Some facts: Executive producer at French label, Call Me Records. Co-managed band with FABRICE NATAF and provided recording and tour support.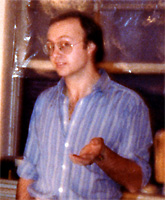 ERIC DUFAURE
Eric ran Cachalot records from a loft in Soho, where one could often find members of the bands he signed helping to prepare marketing materials and collate press kits for the label. Irrepressible and unstoppable, his enthusiasm helped propel new bands on their career paths.
Some facts: Founder of NYC label Cachalot Records, signed Comateens for US release of debut album. Later went on to be Managing Director of the French music society SACEM and then President of EMI Publishing France. He is currently Managing Director of Beluga Productions in Paris.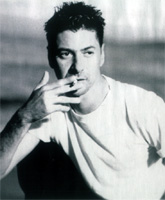 ETIENNE DAHO
French pop star Etienne Daho and Comateens traveled parallel paths and shared many experiences in their respective careers. Both artists were managed by Fabrice Nataf, recorded for Virgin Records, stayed at each other's homes in Paris and NYC, performed on each other's records, and deeply admire each other's work. Etienne is not only a close friend to the band, but also a musical collaborator (and extremely chic!).
Some facts: Etienne is one of the most influential personalities to have emerged on the French scene in the last 25 years. A dozen albums and countless hits have turned this "enfant du rock" into the leader of French pop. He has been creating Gold and Platinum award-winning albums since 1980 and has also promoted and produced other artists. Nic has contributed songs to many of Etienne's projects over the years, including "Soudain" and "Me Manquer" on his platinum selling EDEN album, and "Retour A Toi" and "Les Jalousies" on his REEVOLUTION album, and they continue their musical alliance to this day. Etienne's latest CD is 2005's Sortir Ce Soir: Best of Live (on which Nic has a few songs!)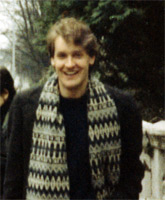 PETER LEAK
Comateens hooked up with Peter in NYC through Eric Dufaure, founder of Cachalot Records. Honest, sincere, sunny, and quietly persistent, unsuspecting industry types opened their doors only to be ensnared by his soft-spoken yet relentless tenacity.
Some facts: Managed the band from '81 to '85. Negotiated and obtained their first major label recording contract, with Virgin Records UK. Also managed other bands, such as Polyrock, Cowboy Junkies, 10,000 Maniacs, is currently manager of Arista Records artists Dido and Avril Lavigne.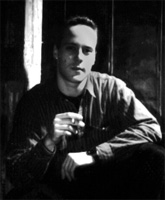 FABRICE FRERE
A staunch friend and supporter of Comateens, Fabrice started out playing in bands himself, first on drums then keyboards, and quickly became interested in the production end of the music industry. Originally a fan of the Comateens, he met the band backstage at the Ritz rock club and wound up running a small construction contracting businessin Manhattan with Lyn Byrd. A true renaissance man, this unique and multi-talented individual has traveled many career paths including: all facets of interior construction, songwriting, music production, management, graphic design, magazine production and development, and much more. A keen eye for talent, he has discovered and promoted many artists and photographers and is a video artist in his own right.
Some facts: Managed West & Byrd, co-founded and created ByrdHouse studios, associate producer, engineer, mixer on band demos. Performed road manager duties on French tours. Member of video production crew on West & Byrds' "A Place for Me" music video. Is a shareholder in the enduring Soho lounge Merc Bar, where he took over the top floor to house the offices of the award winning CITY magazine. He is currently a founder, and the Creative Director and COO of CITY magazine, as well as head of NYC-based multi-media studio PlanetFab.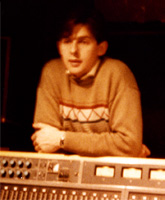 NORMAN MIGHELL
Producer Norman Milghell worked with the Comateens at Power Plant studios in London. Many producers preferred to mix in private, but Norman incorporated the band into the production process, which was much appreciated. An Australian by birth, some of Norman's more excitable remarks were usually unintelligible.
Some facts: Produced the bands 2nd album, Pictures On A String, for Virgin UK records. A specialist in recording East African bands, he is credited as producer on many recordings from 1981's Jumpin' Jive by Joe Jackson to 2005's left-field House collection, DJ Kicks, by The Glimmers.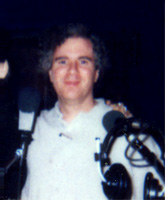 DON WERSHBA
Don was with Comateens from the very beginning, guiding them through the recording process and slaying them with his caustic wit the entire time. One of the core engineers working at the legendary hit factory MediaSound Recording studio in NYC, he has worked with many top producers and bands. His engineering credits include: Aretha Franklin, Marianne Faithfull, Stevie Ray Vaughn, Pet Shop Boys, Luther Vandross, Soft Cell, The Romantics, Peter Frampton and many others.
Some facts: 1979, worked with engineer and mixer Harvey Goldberg on Coolchick/Dangerzone, Comateens first commercial single at MediaSound Studios in NYC. Engineered and mixed Comateens 1981 debut album. Produced the 1988 West & Byrd CD with Nicholas West. Engineer on the TV soundtrack for Ken Burns PBS documentary The Civil War. Is a board member of The Night Kitchen Radio Theater, and is currently Vice President of Solid State Logic, the world's largest manufacturer of analogue and digital audio consoles.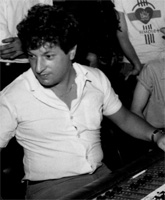 PETER SOLLEY
Grammy-nominated producer and classically trained multi-instrumentalist, Peter Solley was working out of Criteria Studios in Florida when he was enlisted to work on the Comateens 1984 album Deal With It. This record contained even more multi-part vocal harmonies than usual and lots of Nic's keyboard arrangements, which Pete, with his classical training understood instinctively.
Some facts: Was a member of Procol Harum. Performed with The Crazy World of Arthur Brown, (the line-up included drummer Carl Palmer and guitarist Albert Lee). Toured with David Coverdale's Whitesnake. After a stint doing jingles for multi-national companies, found his way into record production, earning gold and platinum records for CBS/Sony, Atlantic, Arista and many others. Some of his best known productions include The Romantics' classics, Talking In Your Sleep (which he wrote), What I Like About You, John Parr's Naughty Naughty, and Motorhead's Grammy-nominated album 1916. Ted Nugent, Peter Frampton, Oingo Boingo and Mountain are some of the other artists who have benefited from Solley's production skills. Aside from producing records, Pete played keyboards on a diverse range of albums, including discs by Eric Clapton and Al Stewart. Conducted the New York Philharmonic strings on sessions that he has scored. Today he operates his own Peter Solley Productions music software company. Read an interview with Pete Solley
www.petersolleyproductions.com

SPECIAL THANKS TO
Waring Abbott
Jerry Agony
Zachary Alford
Robert Altemus
Alain Artaud
Chuck Baran
David Axel Baumbach
Antonia & Henry Billman
Ron Boudreau
Richard Branson
Doug Browne
Jeff Buckland
Beavis & Butthead
Lyn Byrd
Matthew Caws
Laurent Chalumeau
Robert Christgau
Serge Clerc
Peter Crowley
Chris Cunningham
Etienne Daho
Emmanuel De Buretel
Sophia Dembling
Wendy & Merwin Dembling
Jimmy Destri
Bill Dickson
Diana Dominicci
Francis Dordor
Simon Draper
Marie Anne Dudoit
Eric Dufaure
Barbara & Peter Elstob
Gaylord Fields
Jim Fouratt
Fabrice Frere
Harvey Goldberg
Burton Goldstein
Tom Goodkind
Mark Goodman
Freeform Five
Gregory Greenberg
George Haas
Lonnie Hillyer
Hyped 2 Death
Cathy Irizarri
Jerry Jaffe
Ramona Lee Jan
Jim Kerr
Charles Klanit
Hilly Kristal
Ed Kulkosky
Gregor Laraque
Jeremy Lascelles
Barbara & Bill Leak
Peter Leak
Youri Lenquette
Bill Levenson
Ben Manilla
Ben Margulies
Rhonda Markowitz
Brendan McCabe
Norman Mighell
Jean Baptiste Mondino
Louis Monfeuga
Fabrice Nataf
Suzanne Nataf
Nathalie Noennec
OMD
Michael Pantaleoni
Jean Eric Perrin
Susan Peters
Susan Planer
Martha Quinn
Rhino Records
Rolly
Bernard Rose
Chuck Sabo
Nicole Saller
Bob Schwaid
Andy Schwartz
Kimberly Smith
Mark Sokol
Jerome Soligny
Peter Solley
Mark Sosik
Speedies
Joe Stevens
Marty Thau
Mark Thonon
Roy Trakin
Arnold Turboust
Harry Viderci
Vincent Warin
Tessa Watts
Don Wershba
David Whitaker
Peter Zaremba
Patrick Zelnik
Jeff Zilm
Zop