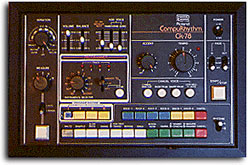 Aliases: Rolly, Roland Compu-Rhythm CR-78, Beat
Position: Drummer
Instruments: Percussion, sliders, dials, toggles, buttons.
---
EARLY YEARS
ROLLY was born in the Japan TechnoPlex, existing as 3,468 separate pieces before being assembled, tested, and called upon to serve with the Comateens. Though knowledge of the TechoPlex is scarce, Rolly, once drafted into service by sympathetic users, was able to reveal some of its secrets.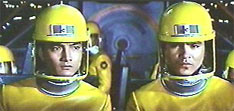 In the 'Plex: These "Beat-Techs" don't look very happy after a young Rolly Crazy-glued their soldering guns while they weren't looking.
He was raised in a temple-like cavern of technology, guided by yellow-suited beat-technologists. His early programming and imprinting was rigorous, but despite this and the bare chilly cell he was given as living quarters, he was eager to hone his skills and "rock out".
TRAINING PERIOD
His training began by playing in a "test band" sim, where he scored at the top of his conveyer belt peers, qualifying for the Quality Control Battle of the Beats, the largest TechnoPlex event for drummers in his category. Rolly aced the battle, won approval from the Inventory Masters, and in 1979 was transported to NYC and the Comateens rehearsal space at West 88th Street.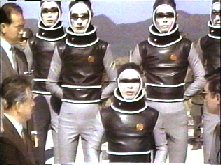 Judges inspect Test-Band Decca 1.2 before the big Battle of the Beats. Rolly won top honors in the "Perfect Rhythm" finals.
JOINS THE BAND
He was immediately involved in song-writing sessions and rehearsals, teaming up with bassist NICHOLAS WEST to form a distinctive rhythm section. In quick succession he played all the downtown NY rock venues, including CBGB, Max's Kansas City, Trax, Tier 3, Danceteria, the Peppermint Lounge, etc. He also received some upgrades which enhanced his abilities: a handsome head-light, to illuminate his buttons when the stage went dark between songs, and a foot-switch so the bassist could signal him directly.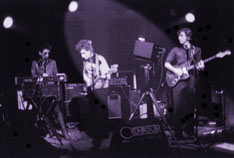 On stage: Rolly in the spotlight at a Comateens performance possibly somewhere in Europe.

Although HARRY VIDERCI was the drummer chosen to record on the Comateens first single, ("Cool Chick"/"Dangerzone", Teenmaster records), in December of 1980, Rolly was enlisted to record on nine of the eleven tracks on the band's debut album, sharing drumming credits with JEFF ZILM. For the American release of this album "The Munsters Theme" was added, Rolly's most popular performance to date.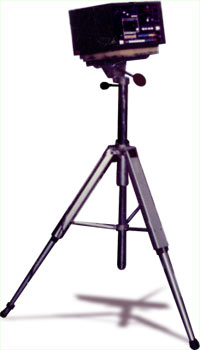 Rolly durring his solo on stage.
After this, Rolly toured extensively with the band in Europe, and appeared in their first music video for the song "Ghosts". Sadly, by 1983, the stress of endless rehearsals and touring began to take their toll and Rolly developed a micro-circuit addiction. This forced Comateens to begin working with the Linn drum, but maintaining Rolly as standby percussionist. Eventually, Rolly overcame his problems and became a permanent resident of all Comateen rehearsal rooms, adding color to demos whenever his special "touch" was needed.
Most recently, Rolly has moved back to Japan where he has begun writing a scorching exposé of the music industry, and hopes to spend his retirement years as a revered component of rock history.
ROLLY'S TOP TEN
Suicide
The Normal
Kraftwerk
Wendy Carlos
Jean-Michel Jarre
Edgard Varèse
Throbbing Gristle
Tangerine Dream
Einsturzende Neubauten
Yellow Magic Orchestra
ROLLY'S BIOGRAPH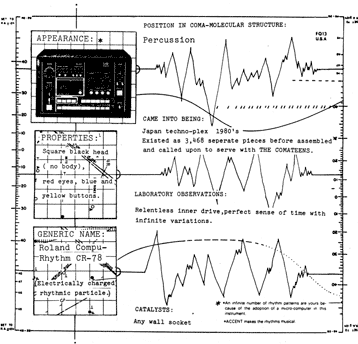 Rolly's 'Biograph', a cut-and-paste graphic Lyn created to use as part of the Comateens media kit, that they would send out to promote the band to prospective venues.

All materials Copyright © 2019 Comateens, all rights reserved, except where otherwise indicated. No material may be reused without express permission.