06/88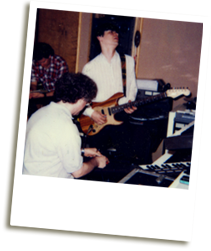 Record and mix the new album West & Byrd at the Manhattan Recording Company, with Nic's longtime associate Jerry Agony (left) playing lead guitar. For Oliver's song She's Got To Be My Girl, Lyn and Nic wanted to posthumously use the vocal performance (and guitar solo) that Oliver had recorded for the demo. Producer Don Wershba (left), had to "fly-in" the track, a difficult technical trick to pull-off. To the amazement of all, the guitar track synced perfectly on the first attempt — they felt as though Oliver must be watching over them.
 08/88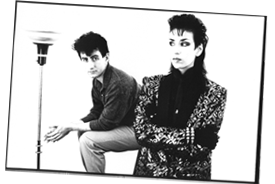 Talented photographer, and Lyn's next-door neighbor, David Axel Baumbach shoots glamorous photos of the duo for the new project, at 180th street.
09/88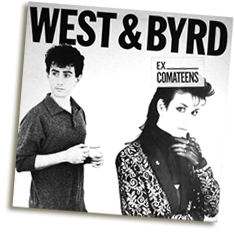 Release of the new album West & Byrd, which Virgin Records felt needed a sticker saying "Ex-Comateens" covering the striking photo, to make the connection with the old band.
 09/88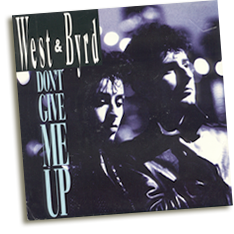 Release the first single from the album, featuring a moody image by French photographer and filmmaker Vincent Warin.
09/88 
Comateens shoot videos for a French TV show, of their new songs Stay With Me and Final Kiss Of Love. It was shot in a bare room and mixed on-the-fly by the director.
10/88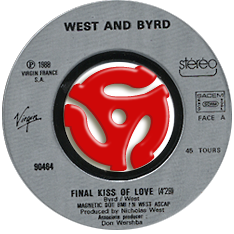 Make two remixes of Final Kiss Of Love, one with the album's producer Don Wershba and another with Brazilian producer Tuta Aquino.
01/89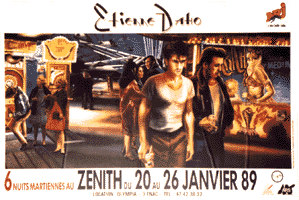 West & Byrd, backed by guitarist Chris Cunningham and a hot rhythm section (drummer Zack Alford and bassist Lonnie Hillyer), open for Etienne Daho at the Zenith in Paris. They also perform on a couple of numbers with Etienne during his show.
  09/89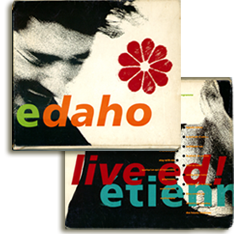 Etienne Daho releases a live album, recorded at the Zenith concerts in Paris, that includes Stay With Me written by Oliver North, and featuring Lyn Byrd and Nicholas West singing backup.