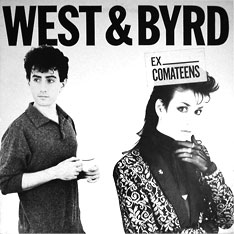 Label: Virgin France # PM 527 30836
Released:  France, Summer 1988
Album recorded as a duo between Nic and Lyn, but including two songs written by Oliver shortly before his death: She's Got To Be My Girl and Stay With Me. Continuing a long and happy history of collaboration with the band, French pop star ETIENNE DAHO does a guest vocal with Lyn on Stay With Me while on a visit to New York. Recorded and mixed in New York by longtime Comateens associate DON WERSHBA.
Produced by NICHOLAS WEST
Associate Producer DON WERSHBA
Recorded at MANHATTAN RECORDING COMPANY, New York USA, March 1988
Engineered by DON WERSHBA assisted by PHILIP KLUM
Mixed by DON WERSHBA & NICHOLAS WEST at PLUS 30 STUDIOS, Paris France
Front cover photo in New York by DAVID AXEL BAUMBACH
Back cover photo in Madison WI by NICHOLAS WEST
Also released as a cassette and CD.
 Personnel:
LYN BYRD: Vocals, keyboards
NICHOLAS WEST: Vocals, bass, keyboards
OLIVER NORTH: Vocals, guitars on She's Got To Be My Girl
JERRY AGONY: Guitars
LINN: Drums, percussion
ETIENNE DAHO: Vocals on Stay With Me

1 Paper Heart
2 I Can't Tear Myself Away
3 Stay With Me
4 Final Kiss Of Love
5 She's Got To Be My Girl
Lyn
Lyn
Lyn / Etienne Daho
Lyn
Oliver
6 Don't Give Me Up
7 Where Did You Go?
8 Winter
9 When You're Mine
10 Sleep
Nic
Lyn
Nic
Nic
Nic