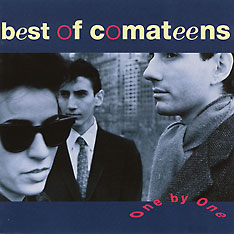 Label: Virgin France # PM 527 30836
Released:  France, 1991
COMATEENS last album; a 16 song retrospective "Best Of" spanning the years 1981 to 1990, and including a previously unreleased track by Oliver She's An Angel.
Compiled and produced by COMATEENS.
Additional remix engineering by DON WERSHBA at 39th St Studios, New York USA
Cover photos in New York by KEVIN CUMMINS
Released as a vinyl LP, CD and cassette.

1 Late Night City
2 Ghosts
3 Nightmare
4 One By One
5 Get Off My Case
6 Cold Eyes
7 The Late Mistake
8 Uptown
Nic
Lyn / Nic
Lyn
Lyn / Nic
Band
Nic
Lyn
Lyn
9 Don't Come Back
10 Resist Her
11 Love Will Follow You
12 She's An Angel
13 Stay With Me
14 Winter
15 Don't Give Me Up
16 A Place For Me
Lyn
Band
Band
Oliver
Lyn
Nic
Nic
Lyn / Nic