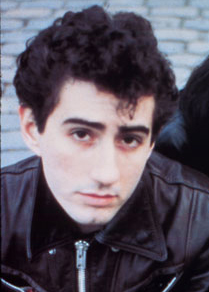 Aliases: Nic O. Teen, Nic North, Nicholas West
Position: Singer, Songwriter, Arranger, Producer, Musician, Performer
Instruments: Bass, Drums, Guitar, Percussion, Keyboards
---
EARLY YEARS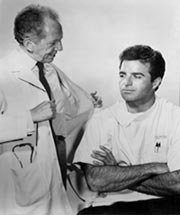 Nicholas was born in London, England to American parents. The oldest of three children, his parents moved back to the US when he was three years old, and he was raised on the Upper West Side of Manhattan, New York City. He is a member of an old New York show business family; his great grandmother was vaudeville and Yiddish theatre star Ada Jaffe, and his uncle was noted character actor Sam Jaffe who appeared in many major films and was a star of the popular 1960s television series Ben Casey.
At the age of six, he was given piano lessons, and did very well, but stopped lessons at age eight. He felt at the time that he wanted to grow up to be a doctor (probably due to seeing his Uncle Sam on Ben Casey!)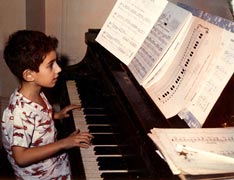 A GOOD DECISION
However, at age 15 he decided that he wanted to become a professional musician and composer, and began classical piano lessons again as a pupil of Rosalie Sirlin, and later attended master classes with composer Seymour Bernstein. He also played tympani in his junior high school orchestra.
After high school, Nicholas entered the City College Of New York and studied theory and composition with composers Miriam Gideon and Pulitzer-prize winning electronic composer Mario Davidovsky.
He also joined his first band at this time, a blues/jazz/rock band called The Eels, comprised of local neighborhood friends, playing drums in the band and writing his first songs. He got his first live performance experience with The Eels playing small block parties and a few chaotic festivals in Central Park.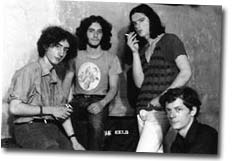 At that time Ed Kulkosky, a family friend who had known music club owner Hilly Kristal for many years, called Hilly on The Eels' behalf, with the result that they played several shows in the newly-hip CBGBs rock club, and found themselves in the whirlpool of the burgeoning New York rock scene of the late '70s. A gig at CBGB was Nic's first performance experience in front of a paying audience.
Nicholas left City College after two years of study in order to enter the real-world music business. He got a job at the world-renowned Mediasound Studios in New York, and there entered an apprenticeship with veteran mastering engineer Ray Janos to learn the art of disk mastering. He subsequently became disk mastering engineer at Mediasound when Janos left to work at another company. During this time he continued to play with The Eels and various other short-lived groups, sometimes playing piano and sometimes playing drums. During gigs at Max's Kansas City and CBGBs he also met and became friendly with fellow band Laughing Dogs, who later invited him to perform with them in their alter-ego group The Kojaks at New York's Bottom Line.
COMATEENS ARE BORN
In September 1978, he met engineer Ramona Jan at Mediasound Studios, and the two decided to write songs and form a band. They began to rehearse together, Nick playing bass and Ramona playing guitar, using Ramona's "Kent" electronic rhythm box for drums. Thus the original Comateens was born. The name "Comateens" was suggested as a joke by Bill Dickson, guitarist for fellow band The Rousers, but the name stuck and fit the minimalist style of the band, and was adopted.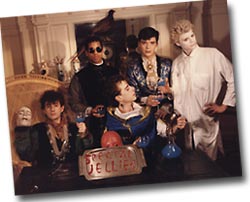 SPECIAL JELLIES: (left to right) Nic, Sterling Campbell, Jerry Agony, Erik Sanko, Chris Cunningham (seated).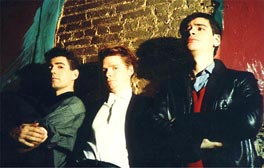 STIGMATIX: (left to right) Nic, James Chance, Jerry Agony.

Nicholas wrote, played, recorded and toured the US and Europe with Comateens from 1979 until 1992, making many contacts in the European music business, where Comateens had their best success. The Comateens during this time went through many personnel changes, including several drummers and most notably drafting Nicholas' brother Oliver North into the band as guitarist.
OTHER BANDS
During this period he was also a member of two New York experimental bands with long-time friend and collaborator from The Eels, guitarist Jerry Agony, playing keyboards with Jerry's group Special Jellies, and performing twice on national television on ABC-TVs One Life To Live. He also wrote and played bass with Jerry's trio Stigmatix, which also featured "No Wave" saxophonist James Chance, (later James White).
WEST & BYRD APPEAR
After the death of brother Oliver in 1987, Comateens, now consisting of only Nicholas and Lyn Byrd, recorded an album as a duo under the name West & Byrd and performed a series of shows in Paris backed by Special Jellies guitarist Chris Cunningham, Maggie's Dream bassist Lonnie Hillyer and drummer Zach Alford, later to join the B-52s and Bruce Springsteen.
After that, however, they readopted the name Comateens, recording the hit "A Place For Me" with Lyn Byrd and Nada Surf guitarist Matthew Caws, and also releasing a "Best Of Comateens" CD on Virgin Records.
CONTINUING WORK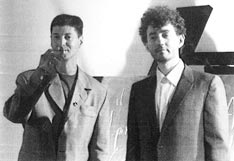 Since the dissolution of Comateens in 1992, Nicholas has continued to work behind the scenes as a professional pop songwriter, and earned his first gold record in 1996 for French artist Etienne Daho's recording of his song "Soudain". Since then, Nicholas has had songs on several gold and platinum selling albums, and has had his songs recorded and interpreted by many diverse artists. He also continues a close collaborative relationship with Lyn Byrd, their latest project together being this website.
A true multi-instrumentalist as well as singer, Nicholas plays piano, bass, acoustic and electric guitar, organ, synthesiser, drums and percussion.
NIC'S BIOGRAPH
Nic's 'Biograph', a cut-and-paste graphic Lyn created to use as part of the Comateens media kit, that they would send out to promote the band to prospective venues.