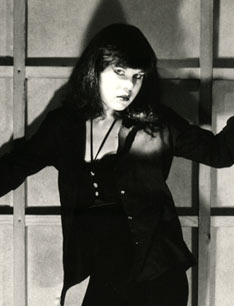 Aliases: Ramona Jan, Ramona Lisa
Position: Singer, Songwriter, Guitarist
Instruments: Guitar
---
EARLY YEARS
RAMONA JAN, a New Jersey native, first met NIC NORTH in 1978 at MediaSound recording studios in Manhattan, where he was working as a disc mastering engineer. She, like Nic, had started out as a receptionist and worked her way up to recording engineer. She was the co-founder of Comateens, writing songs and playing guitar with Nic in the earliest incarnation of the group, and may be heard on their earliest recordings such as "Dial Tone", "TVC15" "Cool Chick" and "Danger Zone". Ramona then wrote songs for and performed in a couple of other '80's bands. After working in Comateens Ramona was a member of Dizzy and the Romilars and the all-girl group Venus Fly Trap that backed Buster Poindexter a/k/a David Johansen. Ramona later produced a song "Drive My Car", for the short-lived 1981 punk ensemble, Nasty Facts. Recently she co-produced and sang on the Nasty Facts reunion CD "All Around the World".
Today Ramona is the mother of an 11-year old daughter and lives in Damascus, PA with her musician husband ANDRE TURAN. Ramona and Andre, who is noted for his four octave techno-metal range as well as his smooth country voice, have released a CD as Jan-Turan, titled "From Here to Reality". Jan makes mixed media crayon, color pencil and acrylic paintings and hand-sewn dolls as well. She studied doll making at the Waldorf School in Manhattan, and her soft dolls feature minimalist stitched faces, found-object clothing and yarn hair.
Ramona also does a little stage acting, recently playing "Bananas" in House of Blue Leaves and "Wilhelmina" in The Passion of Dracula for Way Off Broadway. In 2005, Ramona appeared on an episode of the reality TV show "Wife Swap" and also in the first episode of another reality series on HGTV's "Design Star".