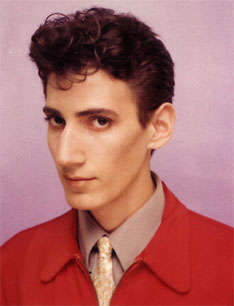 Aliases: Oliver North
Position: Singer, Songwriter, Arranger, Guitarist.
Instruments: Bass, Drums, Guitar
---
Oliver, younger brother of Comateens co-founder Nicholas West, was born in New York City and raised on the Upper West Side of Manhattan along with Nic and their sister Sophia.
He was a brilliant, energetic, popular and inquisitive kid who very early showed wide-ranging interests in artistic pursuits such as film making, writing and music. He was also strongly interested in science, physics especially, and often spoke about one day attending university to pursue the subject.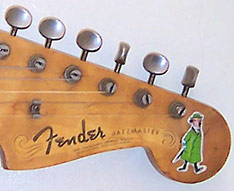 Oliver's fender guitar with it's ever present Professor Calculus sticker.
His first major musical experience, at age 8, was a month spent at a summer music camp in upstate New York, where he learned his first basic guitar skills on an inexpensive Ramirez nylon string guitar (a guitar now in Nic's possession). He learned to play "Blowin' In The Wind", "Kumbaya", "This Land Is Your Land", and all the old favorites, and performed in the camp show. He then went on to take piano lessons for a while, and also had for a time during his teens a private guitar teacher.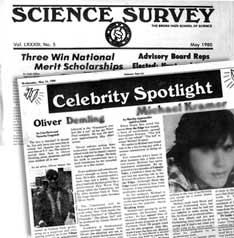 School newspaper featuring Oliver as Bronx High School of Science's very own rising star.
VARIED INTERESTS
Oliver attended the Bronx High School Of Science in New York City and graduated with high grades. He was a good student and enjoyed school. However, he joined Comateens directly after his graduation from high school, and did not get a chance to go to college.
At first it didn't seem as though Oliver would choose music (or science) as a career. Like his great uncle Sam Jaffe, Oliver was also an extremely talented actor.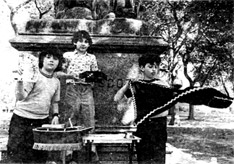 Oliver (center), performing in NYC's Central Park, along with his fellow with 12-year-old magicians.
A major theatrical agent, the mother of a friend of his in grade school, recognized his abilities and took him on at the age of nine as a child actor, and he went on to do many TV commercials in the late '70s / early '80s. He worked as a commercial actor all through his high school years. The most well known of his commercial appearances was his solo spot in one of the Peter Paul Almond Joy "Sometimes You Feel Like A Nut" advertisements, aired on television nationwide; a nutty 17-year-old Oliver can be seen in the "principal's office" of a fictional high school.
MUSIC CONNECTION
After the departure of Ramona Jan, Nic and Lyn asked him to join the band as guitarist, and did so directly after his graduation from high school. The first gig with Oliver was at a small New York club called "Trax", where they shared the bill with another young New York band, The Speedies.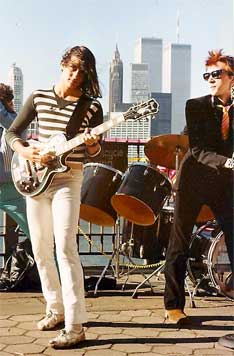 Oliver's high school friend and Speedies guitarist Eric Hoffert (left) and lead singer John Marino (right).
Speedies guitarist Eric Hoffert was a close friend of Oliver's from Bronx Science High School, and a good time was had by all. Oliver had so little time to rehearse for this show and learn the songs that he had musical "cue cards" with chords written on them spread out at his feet on the stage. Near the end of the show, Speedies singer John Marino joined the band on stage for a performance of David Bowie's "TVC15".
Oliver's first recordings with the band were the songs "Raceway" and "Keep The Pace" which appear on their first album.
As a musician Oliver was a total original, following his own path in his songwriting and guitar playing and he was considered by many to be the most creative member of the Comateens. His powerful rock solid rhythm guitar and wild, strange solos were essential to the band's unique sound and his songwriting was, although less commercial than Nic's, the most interesting.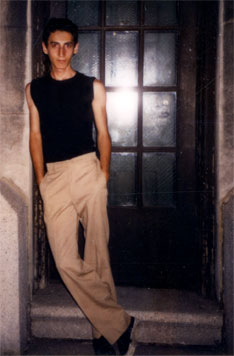 Oliver hanging out on Manhattan's Upper West Side, the neighborhood in which grew up.
Oliver's musical tastes were the most eclectic and off-beat of the three core Comateens and he would invariably cite The Residents, James Brown, and '60s orchestral arranger Enoch Light as his most powerful influences. He was far ahead of his time in his ironic appreciation of weird "bachelor pad" music and similar musical byways. Other major favorites were The Beatles, Steely Dan, Jimi Hendrix, Snakefinger, and much hardcore punk and rap music. The Residents were by far his favorite musical group.
Near the end of his life he was a talented poet and writer who kept prolific journals of his life, and the dark impressionistic lyrics for the songs he wrote for Comateens are instantly recognizable as his own personal style.
Oliver North died suddenly in June 1987 in New York City at the age of 25, due to asthma-induced heart failure.
OLIVER'S BIOGRAPH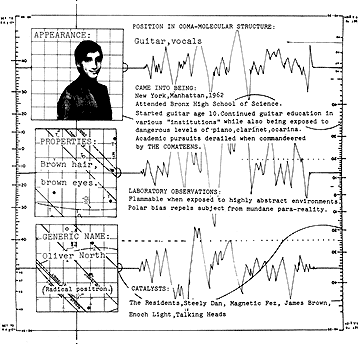 Oliver's 'Biograph', a cut-and-paste graphic Lyn created to use as part of the Comateens media kit, that they would send out to promote the band to prospective venues.