NICHOLAS WEST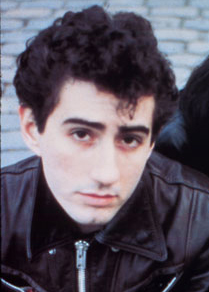 Aliases:  Nic O. Teen, Nic North, Nicholas West
Position: Singer, Songwriter, Arranger, Producer, Musician, Performer
Instruments:  Bass, Drums, Guitar, Percussion, Keyboards
---
EARLY YEARS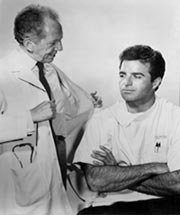 Nicholas was born in London, England to American parents. The oldest of three children, his parents moved back to the US when he was three years old, and he was raised on the Upper West Side of Manhattan, New York City. He is a member of an old New York show business family; his great grandmother was vaudeville and Yiddish theatre star Ada Jaffe, and his uncle was noted character actor Sam Jaffe who appeared in many major films and was a star of the popular 1960s television series Ben Casey.
At the age of six, he was given piano lessons, and did very well, but stopped lessons at age eight. He felt at the time that he wanted to grow up to be a doctor (probably due to seeing his Uncle Sam on Ben Casey!)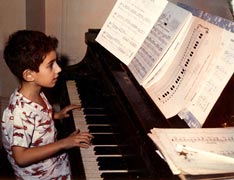 A GOOD DECISION
However, at age 15 he decided that he wanted to become a professional musician and composer, and began classical piano lessons again as a pupil of Rosalie Sirlin, and later attended master classes with composer Seymour Bernstein. He also played tympani in his junior high school orchestra.
After high school, Nicholas entered the City College Of New York and studied theory and composition with composers Miriam Gideon and Pulitzer-prize winning electronic composer Mario Davidovsky.
He also joined his first band at this time, a blues/jazz/rock band called The Eels, comprised of local neighborhood friends, playing drums in the band and writing his first songs. He got his first live performance experience with The Eels playing small block parties and a few chaotic festivals in Central Park.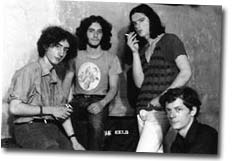 At that time Ed Kulkosky, a family friend who had known music club owner Hilly Kristal for many years, called Hilly on The Eels' behalf, with the result that they played several shows in the newly-hip CBGBs rock club, and found themselves in the whirlpool of the burgeoning New York rock scene of the late '70s. A gig at CBGB was Nic's first performance experience in front of a paying audience.
Nicholas left City College after two years of study in order to enter the real-world music business. He got a job at the world-renowned Mediasound Studios in New York, and there entered an apprenticeship with veteran mastering engineer Ray Janos to learn the art of disk mastering. He subsequently became disk mastering engineer at Mediasound when Janos left to work at another company. During this time he continued to play with The Eels and various other short-lived groups, sometimes playing piano and sometimes playing drums. During gigs at Max's Kansas City and CBGBs he also met and became friendly with fellow band Laughing Dogs, who later invited him to perform with them in their alter-ego group The Kojaks at New York's Bottom Line.
COMATEENS ARE BORN
In September 1978, he met engineer Ramona Jan at Mediasound Studios, and the two decided to write songs and form a band. They began to rehearse together, Nick playing bass and Ramona playing guitar, using Ramona's "Kent" electronic rhythm box for drums. Thus the original Comateens was born. The name "Comateens" was suggested as a joke by Bill Dickson, guitarist for fellow band The Rousers, but the name stuck and fit the minimalist style of the band, and was adopted.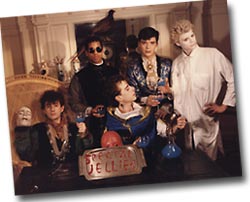 SPECIAL JELLIES: (left to right) Nic, Sterling Campbell, Jerry Agony, Erik Sanko, Chris Cunningham (seated).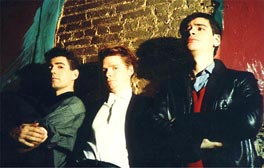 STIGMATIX: (left to right) Nic, James Chance, Jerry Agony.

Nicholas wrote, played, recorded and toured the US and Europe with Comateens from 1979 until 1992, making many contacts in the European music business, where Comateens had their best success. The Comateens during this time went through many personnel changes, including several drummers and most notably drafting Nicholas' brother Oliver North into the band as guitarist.
OTHER BANDS
During this period he was also a member of two New York experimental bands with long-time friend and collaborator from The Eels, guitarist Jerry Agony, playing keyboards with Jerry's group Special Jellies, and performing twice on national television on ABC-TVs One Life To Live. He also wrote and played bass with Jerry's trio Stigmatix, which also featured "No Wave" saxophonist James Chance, (later James White).
WEST & BYRD APPEAR
After the death of brother Oliver in 1987, Comateens, now consisting of only Nicholas and Lyn Byrd, recorded an album as a duo under the name West & Byrd and performed a series of shows in Paris backed by Special Jellies guitarist Chris Cunningham, Maggie's Dream bassist Lonnie Hillyer and drummer Zach Alford, later to join the B-52s and Bruce Springsteen.
After that, however, they readopted the name Comateens, recording the hit "A Place For Me" with Lyn Byrd and Nada Surf guitarist Matthew Caws, and also releasing a "Best Of Comateens" CD on Virgin Records.
CONTINUING WORK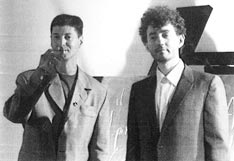 Since the dissolution of Comateens in 1992, Nicholas has continued to work behind the scenes as a professional pop songwriter, and earned his first gold record in 1996 for French artist Etienne Daho's recording of his song "Soudain". Since then, Nicholas has had songs on several gold and platinum selling albums, and has had his songs recorded and interpreted by many diverse artists. He also continues a close collaborative relationship with Lyn Byrd, their latest project together being this website.
A true multi-instrumentalist as well as singer, Nicholas plays piano, bass, acoustic and electric guitar, organ, synthesiser, drums and percussion.
NIC'S BIOGRAPH
Nic's 'Biograph', a cut-and-paste graphic Lyn created to use as part of the Comateens media kit, that they would send out to promote the band to prospective venues.

LYN T. BYRD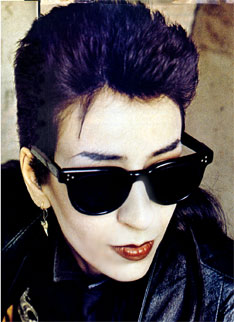 Aliases: Lyn T. Byrd
Position: Singer, Songwriter, Musician, Performer
Instruments:  Keyboards
---
EARLY YEARS
Lyn was born and grew up in upper Manhattan. Her father was a former coal miner of Pennsylvania Dutch ancestry, and her mother was a new arrival in NYC, from Puerto Rico. Lyn was raised with two half-brothers from her mother's first marriage, and from this unusual parentage sprung Lyn and her younger sister. Though her parents and brothers have passed on, the city of New York and her love for it remains her foundation.
Artistic mentor: Lyn's big brother on leave from the Army, NYC
Lyn (left) at the piano
with her little sister the ballerina.


Good grades! Her report from the 3rd St. Music School Settlement.
Lyn was the dark insomniac of the two sisters; she was half-tomboy, half-bookworm, and has been an artist all her life. Her earliest and most direct influence was her oldest brother, an extremely gifted painter who also dabbled in guitar and languages. Her artistic and literary pursuits were present from early childhood on, winning commendations throughout her school life. She began pian lessons at the Third Street Music School Settlement in NY's East Village but stopped years later, during her attendance at New York's High School of Art & Design, so she could concentrate more on illustration, design, commercial art and writing.
COAL MINES & BIBLES
Lyn's father was born in Kulpmont, PA., the son of a coal mine foreman, one of six siblings. He and his four brothers all worked in the mines and he began driving coal trucks at age sixteen. As evangelical Christians, members of this family were rounded up and thrown in jail for conscientious objection to World War II. Lyn's grandmother stayed home with two daughters, trying to survive without the men folk and doing whatever is it coal miner's women do; bake shoo-fly pies, harvest apples, listen to a population of 1,085 breath, and pray
for their men.
Natalie, PA, 1910. Lyn's grandparents and other families built these rustic homes. These small groups were called "patches."
Grandfather's Certificate of Mine Rescue Training, issued Feb. 20, 1929, Shamokin, PA.
A rare appearance above ground: Grandfather, foreman of his mine, posing with coal cars.
The Shamokin 4: Outside court building before being sent to prison, 1943. Dad (far right), his brothers, and Grandfather (far left).
Coal miners family: The entire clan, NYC, Aug. 5, 1946, here to escape persecution and spread the faith.
From Shamokin, PA to 5th Avenue, NYC: Lyn's dad became foreman of the Plaza Hotel's small army of restoration craftsmen.
Detail of a menu cover from kitschy Trader Vic's, former celeb hotspot, and Lyn's favorite behind the scenes playground.
Upon release of the male members of the family from the federal work camps a year or so later, grandfather, grandmother, and some of their offspring migrated to New York City to spread the faith and earn a living. Grandfather acquired a chauffeur's license, and also worked as a security guard, but finally succumbed to the legacy of the mines — black lung disease.
Lyn's father became foreman of the painters "spray shop" at the Plaza Hotel on 5th Avenue, becoming a master finisher in charge of repairing and maintaining all of the Hotel's furnishings and surfaces, including the Palm Court, the Oak Bar, and Trader Vic's, as well as all other ballrooms, suites and corridors. As a young girl, Lyn was allowed to run around the late great Trader Vic's before opening hours and also visit the vast spray shop with her father, which occupied some top floors and the roof of the Victorian building. She was fascinated with his profession and explored the workrooms of the carpenters, finishers and painters, wondering if she too could join this army of experts one day.
Arecibo, Puerto Rico. Lyn's mother dressed for communion. The youngest of 12 siblings, some of them took turns caring for her after they were orphaned.
Grandfater was quite a bit older than his wife, having married her when she was just a girl. After this photo was taken they were soon gone, leaving behind 12 orphans.
The Old Plaza in Arecibo, Puerto Rico. Lyn only visited once, and was overwhelmed at the amount of relatives she has there.
NYC, rooftop, 146 Street. Trading her summer fabrics for wool and climbing fire-escapes instead of palm trees, mom adjusts to the big city and finds a new husband.
Blue-eyed, bible-toting Pennsylvania Dutchman, falls for Peurto Rician divorcee bombshell. "Does she wear shoes?" asks his family.
PALM TREES & SUGAR CANE
Lyn's mother, the daughter of a sugar plantation overseer and a hill woman, was born in Arecibo,
Puerto Rico. The area was home to the Arecibo Observatory, where the first pulsar in a binary system was discovered and is known for its use in scenes in the James Bond movie Goldeneye. Lyn's Abuelo (Grandfather) would inspect his fields on a white horse called Caballo Ballo, with riding crop in hand. Her Abuela (Grandmother), was a Jibaro, a distant descendant of the indigenous Taino tribe of the island. Jibaro's were uneducated campesino's who lived in extreme poverty. She had grey eyes and spawned twelve children of which Lyn's mom was the youngest. Death visited early and often throughout this family and Lyn's mom was orphaned by twelve years of age, growing up wild, climbing palm trees barefoot, the terror of her classmates.
At eighteen or so Lyn's mother was compelled to leave her first husband and moved to New York City with her two young sons. One day when Lyn's father, a slender young man with blue eyes, knocked on her door with Bible in hand, she opened it and discovered her future husband. The moment he saw her, he thought he had discovered his own Dorothy Lamour, and proceeded to marry her and adopt her two sons as his own.
DIVA TRAINING
Lyn spent her early years reading everything she could get her hands on and terrorizing her hilly Washington Heights neighborhood on her bicycle. Her parents, determining that she had "some sort of knack" had home-schooled her to read before entering kindergarten, and by the time she was 12, her elementary school teachers verified that she had reached a college-age reading level. Contrary to most coal miner's daughters, she is a pure product of her uptown Manhattan neighborhood, spending childhood with other kids in the back alleys and on the stoops and streets, watching her big brothers play stickball, listening to AM hits on a plastic transistor radio, and traveling on the A train to Rockaway Beach every summer. It was her oldest brother who nick-named her "Bird" after seeing a TV special about Secretary Birds and deciding that the nervous long-legged creature looked like his little sister.
After putting up with high school as briefly as possible, she became a jack-of-all-trades, holding down many diverse jobs including construction contract work using skills she had learned from her father. A brief list of her early resumes include: portrait artist, plasterer, painter, sheetrock finisher, faux finish expert, stylist's assistant, and make-up artist.
At one point she ran the popular glam-brand Stagelight cosmetics concession at the famous den of hip New York fashion, Fiorucci, working alongside other under-paid misfits, such as Joey Arias, who would later become one of NYC's notorious performance artists. Loudmouthed and eccentric as possible, she was hired solely on the strength of her dramatic makeup and wardrobe, showing up for the interview in a snakeskin shirt, white mirrored shades, Elvis-oid hair-do, blue suede rockabilly shoes, and an impossible rabbit fur coat dyed to imitate leopard fur. Although a stickler for drama and androgyny, her wardrobe was a bit buttoned-up compared to the excesses displayed by other members of her posse. She had long ago given up following her fathers religion, but still exercised a certain restraint. This stood her well, though she grieved when many of her peers were destroyed, usually by heroine and AIDS.
Vinyl snakeskin jacket by guerilla designer Natasha. Lyn loved it so much she had Natasha make her two.
Portrait of Lyn T. Byrd by NYC School of Visual Arts student and admirer Robert. Robert where are you now?
NYC, 13 St. & 3rd Ave. apt 3B. An early effort at "Elvis hair". This and snakeskin photo by Jeff Buckland.
Friday the 13th was a perfect date for the "spooky" Comateens to play Max's. The Rousers got it instead!
Hot boys: Lyn and her boyfriend, lead singer Buckland (center), loved to wear 60's sharkskin suits.
On the Mini-Korg at an unknown venue. On this synth, no worry about playing more than one note at a time.
Rockaway Beach, water towers & cute boys. Lyn in swimcap, getting sandy and ignoring her little sister.
NYC, 180th St. In her favorite black hoodie, ready to run over every boy in the neighborhood.
In pursuit of writing outlets, Lyn has also contributed to various magazines including NYC-based lifestyle titles City and Tart, and San Diego's Axcess magazine. Reporting mostly on art and technology, she ultimately decided that writing commercial magazine columns was not her cup of tea, and dropped the pursuit entirely in favor of design work. Her first position was as web designer for a global engineering firm, then as art director at Interocity, a hot web-development company in NY's Silicon Alley.
NIGHT BYRD
An insomniac from age 5, Lyn would later be free to live by night, always easy to spot in sunglasses & sharkskin suit after sunset, fueled by tostones, egg creams, neon, and plenty of mascara. In the late seventies and early eighties, Lyn Byrd could always be found at any one of her favorite NYC stalking grounds: Mudd Club, Danceteria, Max's Kansas City, Steve Rubell's Palladium, The Pyramid Club, Hurrah, CBGB's, The Ritz. She spent countless hours after clubbing at every all-night diner in NYC, especially Dave's Luncheonette, famous for it's egg creams. Country settings and Rockaway Beach were anathema. This was mostly due to an allergic reaction to tree bark, which made her hands swell and itch, and an obstinate devotion to being fashionably pale. Any semblance of vampirism was immediately destroyed by even one day in the sun thanks to her Puerto Rican heritage, and she became expert at applying Max Factor Pancake in clown-white. Born with a severe lack of any sense of direction, she learned to navigate by landmarks such as the ever present Empire State Building alone, and being a die-hard Manhattanite, she never learned how to drive nor did she know how to get to any of the "Boroughs".
COMA WHAT?
In 1978 she was recruited by Ramona Lee Jan to join the Comateens, once again because "she has a cool wardrobe" and because she could read music somewhat. Both Ramona and Lyn had boyfriends in the fabulously loud pop-a-billy band The Rousers. The Rousers were a gang of troublemakers that lived in what was referred to as "The Rousers Clubhouse" at 4 St. Marks Place directly over the East Village's iconic Trash & Vaudeville boutique. In this almost habitable apartment, some of the Rousers slept in tents, due to lack of solid walls and the threat of vermin. Parties at the Rousers Clubhouse usually involved them playing real loud and a visit from the NYPD to see what all the commotion was about. The guys charmed their way out of trouble, but the hotdog vendor they'd hired for the party, handing out free "dogs with all the works to the cops might have helped. It was one of the Rousers, guitarist Bill Dickson, who for better or worse, came up with the name "Comateens". Neither The Rousers deadly lead guitarist Tom Milmore, or glamourous lead singer Jeff Buckland, predicted that their girlfriends, Ramona Jan and Lyn T. Byrd respectively, would go on to present serious competition in the NYC music scene. Sorry boys.
Lyn's first gig with the Comateens was Ann Magnuson's "New Wave Vaudeville Show" at Irving Plaza in NYC, a decadent and silly cabaret style show that sent out an open call for "Geeks, Egyptian slaves, emotional cripples," etc. to perform. Comateens set up in the theater's lobby to entertain attendees arriving at the venue, which would feature the debut performance of the unique Klaus Nomi.
Lyn's initial job was to push the buttons on Mini-Pops, a tiny beat box by Korg, with an assortment of preset rhythms including cha-cha, beguine, tango, rumba, bossa-nova, waltz, march, rock, etc. Due to a flaw in its design, it was possible to mash down several buttons at once and combine some of the patterns. For this gig, Lyn dressed the normally dark and moody Comateens all in white with matching jackets, just to confuse everyone.
Band co-founder and bass player Nic, decided to let her stay on, much to her surprise. Very rusty on keyboard after her long absence from her early music training, she had to re-learn how to read music and play. She started with a 1973 vintage Mini-Korg monophonic synthesizer, playing simple melody lines, and later graduated to polyphonic keyboards, most notably the 1983 Korg Poly-800.
During her tenure with the band she honed her vocal techniques, progressing from her early ad hoc approach to a more controlled delivery. Nic and Oliver's musical ability impressed her deeply and she was the brothers biggest fan. One of her favorite aspects of live performance was double-billing with other bands that she admired including: Etienne Daho, Klaus Nomi, Alan Vega of Suicide, OMD, The Rousers, The Speedies, Nervus Rex, Brian Setzer's old band The Bloodless Pharaohs, and Echo and the Bunnymen. She did her best to manage the image and marketing of the band, often butting heads with music industry professionals who had ideas of their own. She continued to raise hell throughout the Comateens entire career and did not give up until the bands dissolution in 1992.
Nic and Lyn did a non-Comateens project starting in 1987, recording briefly as West & Byrd and releasing an album in 1988 on the Virgin France label. Afterwards they revived Comateens to contribute to a compilation record, once again for Virgin France. The duo continue to be close friends, work on projects whenever possible and have performed on a couple of albums by their friend, French pop-star Etienne Daho.
PASTIMES & INFLUENCES
(Submitted by Lyn Byrd)
Requirements:
Manhattan after dark, Neon, Summer on the stoops, Jets overhead, The Chrysler and Empire State Buildings, The George Washington Bridge, Cemeteries, Concrete, Gargoyles, Water towers, Back alleys, Ravens, Owls, Crows and bats, Jungle cats, Vengeance, Edged weapons, Revolvers, Grenades, Flying V guitars, Mom, Good cops, Drag Queens, The Black Stallion, Samurai's, Gladiators, Aliens, Toons, Vampires, Film Noir, Spaghetti Westerns, 45 rpm records, Egg Creams, Bourbon, Arroz con pollo, Comic books, Max Factor, Death ray.
Little Black Book:
Batman, Jesus, Abraham Lincoln, Dracula, Alexander the Great, Morticia Addams, Musketeer Athos, Alex and his Droogs, The Wild Bunch, Dirty Harry, Garbo, Mr. Spock, Zorro, Beauty and the Beast, Mordred, Astro Boy, Snow White's Evil Queen, Aslan, The Green Hornet, Moses, Napoleon Solo, Casca, Captain Blood, Aladdin, James Bond, Don Quijote, Bruce Wayne, Sgt. Fury, Doc Holliday.
LYN'S BIOGRAPH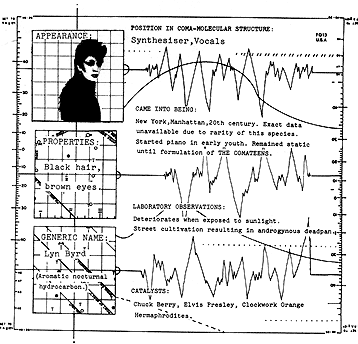 Original "biograph" for Lyn as distributed in the Comateens press kit.

Motown
Marvin Gaye, The Ronnettes, Martha & the Vandellas, The Supremes, Levi Stubbs, Temptations, Smokey Robinson, Stevie Wonder, Jackson 5, The Isley Brothers.
Funk, Soul, Rhythm & Blues
James Brown, Al Green, Aaron Neville, Gladys Knight, Ray Charles, Anne Peebles, Charles Wright, Wilson Pickett, Ben E. King, Sam & Dave.
Urban – RUN-DMC, Eric B and Rakim. Whodini, Beastie Boys, Joe Cuba, Ray Baretto, Joe Batann, Tito Puente, Trio De Los Panchos.
Era One Rock/Pop/etc.
Elvis, Little Richard, The Drifters, Link Wray, The Four Seasons, Del Shannon, The Rascals, Rolling Stones, Doors, Eric Burdon & the Animals, Troggs, Kinks, Paul Revere & the Raiders
Era Two Rock/Pop/etc.
Led Zepplin, Alice Cooper, Cheap Trick, Queen, David Bowie, Bryan Ferry, Sly and the Family Stone, Rocky Horror Show, Prince, T-Rex
Era Three Rock/Pop/etc.
BeeGees, ABBA, Beach Boys, Roy Orbison, Leonard Cohen, Modern Lovers, Velvet Underground, Suicide, Klaus Nomi, Mink DeVille
Era Four Rock/Pop/etc.
Iggy Pop, Blondie, The Fast, Ramones, The Cramps, The Senders, Ultravox!, Eurythmics, Rita Mitsouko, Etienne Daho
Americana
Phil Ochs, Ralph Stanley, Otis Taylor, John Lee Hooker, Johnny Cash, Eddie Cochran, Gene Vincent, Patsy Cline, Everly Brothers, Neil Young
Divas
Shirley Bassey, Eartha Kitt, Dinah Washington, Shirley Horn, Annie Lennox, Ronnie Spector, Tina Turner, Billy Holiday, Diana Ross, Martha Reeves, Johnny Mathis
Classical
Chopin, J.S. Bach, C.P.E. Bach, Beethoven, Vivaldi, Tartini, Scarlatti, Wagner, Strauss, Orff
Other
George Gershwin, Irving Berlin, Holland-Dozier-Holland, Goffin & King, Duke Ellington, Fats Waller, Lee Hazelwood, Tom Jones, Frank Sinatra, Tony Bennett.

OLIVER NORTH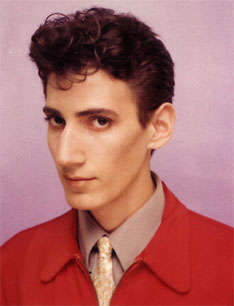 Aliases:  Oliver North
Position: Singer, Songwriter, Arranger, Guitarist.
Instruments:  Bass, Drums, Guitar
---
Oliver, younger brother of Comateens co-founder Nicholas West, was born in New York City and raised on the Upper West Side of Manhattan along with Nic and their sister Sophia.
He was a brilliant, energetic, popular and inquisitive kid who very early showed wide-ranging interests in artistic pursuits such as film making, writing and music. He was also strongly interested in science, physics especially, and often spoke about one day attending university to pursue the subject.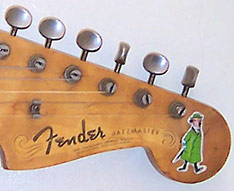 Oliver's fender guitar with it's ever present Professor Calculus sticker.
His first major musical experience, at age 8, was a month spent at a summer music camp in upstate New York, where he learned his first basic guitar skills on an inexpensive Ramirez nylon string guitar (a guitar now in Nic's possession). He learned to play "Blowin' In The Wind", "Kumbaya", "This Land Is Your Land", and all the old favorites, and performed in the camp show. He then went on to take piano lessons for a while, and also had for a time during his teens a private guitar teacher.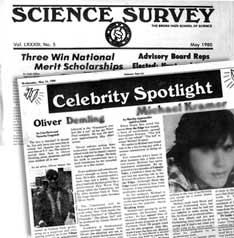 School newspaper featuring Oliver as Bronx High School of Science's very own rising star.
VARIED INTERESTS
Oliver attended the Bronx High School Of Science in New York City and graduated with high grades. He was a good student and enjoyed school. However, he joined Comateens directly after his graduation from high school, and did not get a chance to go to college.
At first it didn't seem as though Oliver would choose music (or science) as a career. Like his great uncle Sam Jaffe, Oliver was also an extremely talented actor.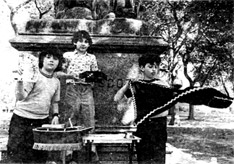 Oliver (center), performing in NYC's Central Park, along with his fellow with 12-year-old magicians.
A major theatrical agent, the mother of a friend of his in grade school, recognized his abilities and took him on at the age of nine as a child actor, and he went on to do many TV commercials in the late '70s / early '80s. He worked as a commercial actor all through his high school years. The most well known of his commercial appearances was his solo spot in one of the Peter Paul Almond Joy "Sometimes You Feel Like A Nut" advertisements, aired on television nationwide; a nutty 17-year-old Oliver can be seen in the "principal's office" of a fictional high school.
MUSIC CONNECTION
After the departure of Ramona Jan, Nic and Lyn asked him to join the band as guitarist, and did so directly after his graduation from high school. The first gig with Oliver was at a small New York club called "Trax", where they shared the bill with another young New York band, The Speedies.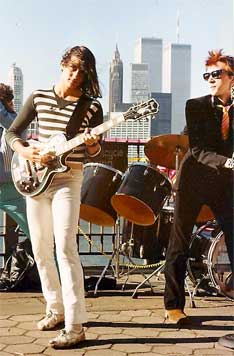 Oliver's high school friend and Speedies guitarist Eric Hoffert (left) and lead singer John Marino (right).
Speedies guitarist Eric Hoffert was a close friend of Oliver's from Bronx Science High School, and a good time was had by all. Oliver had so little time to rehearse for this show and learn the songs that he had musical "cue cards" with chords written on them spread out at his feet on the stage. Near the end of the show, Speedies singer John Marino joined the band on stage for a performance of David Bowie's "TVC15".
Oliver's first recordings with the band were the songs "Raceway" and "Keep The Pace" which appear on their first album.
As a musician Oliver was a total original, following his own path in his songwriting and guitar playing and he was considered by many to be the most creative member of the Comateens. His powerful rock solid rhythm guitar and wild, strange solos were essential to the band's unique sound and his songwriting was, although less commercial than Nic's, the most interesting.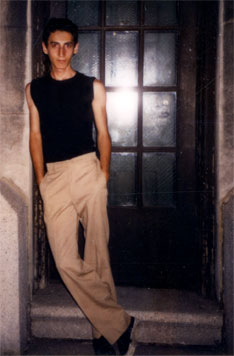 Oliver hanging out on Manhattan's Upper West Side, the neighborhood in which grew up.
Oliver's musical tastes were the most eclectic and off-beat of the three core Comateens and he would invariably cite The Residents, James Brown, and '60s orchestral arranger Enoch Light as his most powerful influences. He was far ahead of his time in his ironic appreciation of weird "bachelor pad" music and similar musical byways. Other major favorites were The Beatles, Steely Dan, Jimi Hendrix, Snakefinger, and much hardcore punk and rap music. The Residents were by far his favorite musical group.
Near the end of his life he was a talented poet and writer who kept prolific journals of his life, and the dark impressionistic lyrics for the songs he wrote for Comateens are instantly recognizable as his own personal style.
Oliver North died suddenly in June 1987 in New York City at the age of 25, due to asthma-induced heart failure.
OLIVER'S BIOGRAPH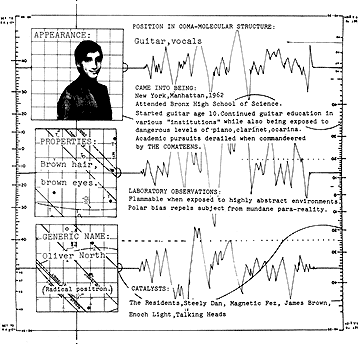 Oliver's 'Biograph', a cut-and-paste graphic Lyn created to use as part of the Comateens media kit, that they would send out to promote the band to prospective venues.


RAMONA JAN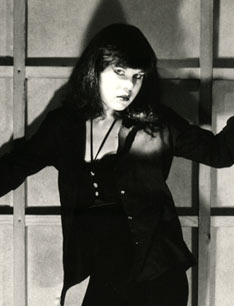 Aliases: Ramona Jan, Ramona Lisa
Position: Singer, Songwriter, Guitarist
Instruments: Guitar
---
EARLY YEARS
RAMONA JAN, a New Jersey native, first met NIC NORTH in 1978 at MediaSound recording studios in Manhattan, where he was working as a disc mastering engineer. She, like Nic, had started out as a receptionist and worked her way up to recording engineer. She was the co-founder of Comateens, writing songs and playing guitar with Nic in the earliest incarnation of the group, and may be heard on their earliest recordings such as "Dial Tone", "TVC15" "Cool Chick" and "Danger Zone". Ramona then wrote songs for and performed in a couple of other '80's bands. After working in Comateens Ramona was a member of Dizzy and the Romilars and the all-girl group Venus Fly Trap that backed Buster Poindexter a/k/a David Johansen. Ramona later produced a song "Drive My Car", for the short-lived 1981 punk ensemble, Nasty Facts. Recently she co-produced and sang on the Nasty Facts reunion CD "All Around the World".
Today Ramona is the mother of an 11-year old daughter and lives in Damascus, PA with her musician husband ANDRE TURAN. Ramona and Andre, who is noted for his four octave techno-metal range as well as his smooth country voice, have released a CD as Jan-Turan, titled "From Here to Reality". Jan makes mixed media crayon, color pencil and acrylic paintings and hand-sewn dolls as well. She studied doll making at the Waldorf School in Manhattan, and her soft dolls feature minimalist stitched faces, found-object clothing and yarn hair.
Ramona also does a little stage acting, recently playing "Bananas" in House of Blue Leaves and "Wilhelmina" in The Passion of Dracula for Way Off Broadway. In 2005, Ramona appeared on an episode of the reality TV show "Wife Swap" and also in the first episode of another reality series on HGTV's "Design Star".

ROLLY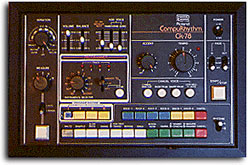 Aliases: Rolly, Roland Compu-Rhythm CR-78, Beat
Position: Drummer
Instruments: Percussion, sliders, dials, toggles, buttons.
---
EARLY YEARS
ROLLY was born in the Japan TechnoPlex, existing as 3,468 separate pieces before being assembled, tested, and called upon to serve with the Comateens. Though knowledge of the TechoPlex is scarce, Rolly, once drafted into service by sympathetic users, was able to reveal some of its secrets.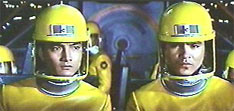 In the 'Plex: These "Beat-Techs" don't look very happy after a young Rolly Crazy-glued their soldering guns while they weren't looking.
He was raised in a temple-like cavern of technology, guided by yellow-suited beat-technologists. His early programming and imprinting was rigorous, but despite this and the bare chilly cell he was given as living quarters, he was eager to hone his skills and "rock out".
TRAINING PERIOD
His training began by playing in a "test band" sim, where he scored at the top of his conveyer belt peers, qualifying for the Quality Control Battle of the Beats, the largest TechnoPlex event for drummers in his category. Rolly aced the battle, won approval from the Inventory Masters, and in 1979 was transported to NYC and the Comateens rehearsal space at West 88th Street.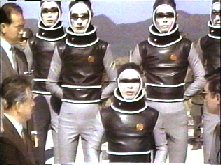 Judges inspect Test-Band Decca 1.2 before the big Battle of the Beats. Rolly won top honors in the "Perfect Rhythm" finals.
JOINS THE BAND
He was immediately involved in song-writing sessions and rehearsals, teaming up with bassist NICHOLAS WEST to form a distinctive rhythm section. In quick succession he played all the downtown NY rock venues, including CBGB, Max's Kansas City, Trax, Tier 3, Danceteria, the Peppermint Lounge, etc. He also received some upgrades which enhanced his abilities: a handsome head-light, to illuminate his buttons when the stage went dark between songs, and a foot-switch so the bassist could signal him directly.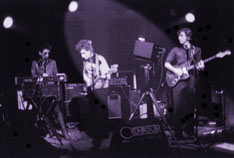 On stage: Rolly in the spotlight at a Comateens performance possibly somewhere in Europe.

Although HARRY VIDERCI was the drummer chosen to record on the Comateens first single, ("Cool Chick"/"Dangerzone", Teenmaster records), in December of 1980, Rolly was enlisted to record on nine of the eleven tracks on the band's debut album, sharing drumming credits with JEFF ZILM. For the American release of this album "The Munsters Theme" was added, Rolly's most popular performance to date.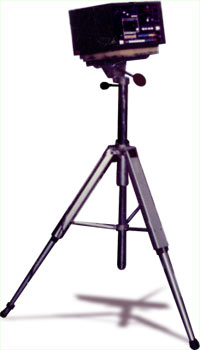 Rolly durring his solo on stage.
After this, Rolly toured extensively with the band in Europe, and appeared in their first music video for the song "Ghosts". Sadly, by 1983, the stress of endless rehearsals and touring began to take their toll and Rolly developed a micro-circuit addiction. This forced Comateens to begin working with the Linn drum, but maintaining Rolly as standby percussionist. Eventually, Rolly overcame his problems and became a permanent resident of all Comateen rehearsal rooms, adding color to demos whenever his special "touch" was needed.
Most recently, Rolly has moved back to Japan where he has begun writing a scorching exposé of the music industry, and hopes to spend his retirement years as a revered component of rock history.
ROLLY'S TOP TEN
Suicide
The Normal
Kraftwerk
Wendy Carlos
Jean-Michel Jarre
Edgard Varèse
Throbbing Gristle
Tangerine Dream
Einsturzende Neubauten
Yellow Magic Orchestra
ROLLY'S BIOGRAPH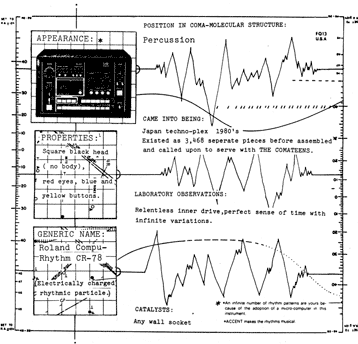 Rolly's 'Biograph', a cut-and-paste graphic Lyn created to use as part of the Comateens media kit, that they would send out to promote the band to prospective venues.