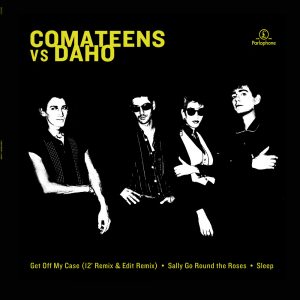 Label: Parlophone / # 953 012 4
Released:  FRANCE, SUMMER 2020
This EP grew out of a couple of side projects recorded at Olympic Studios in London, during the sessions for Etienne Daho's 1996 release of Eden. Nicholas and Lyn were at the studio to assist in the recording of tracks for the album. NICHOLAS WEST had written two of the songs on Eden, Me Manquer and Soudain which he co-wrote with LYN BYRD, both songs with French lyric adaptations by ETIENNE DAHO and performed with Comateens.
The trio recorded a cover of the classic, Sally Go Round The Roses. Nicholas played bass, and along with Lyn, sang backing vocals on another of Nic's compositions, Sleep. In addition Etienne had an idea for a club-remix of Comateens hit Get Off My Case to be produced by FABIAN WALTMAN.
EP front cover photographed backstage at the Danceteria nightclub by Jean-Eric Perrin, New York City 1981.
Cover design LYN BYRD

Personnel:
A SIDE
1: Get Off My Case (Fabien Waltmann's 12' Remix)
(Nicholas Dembling) DR
Produced by Norman Mighell
Recorded in 1983 at Power Plant Studios (London) by Norman Mighell
Remixed in 1996 at Olympic Studios London by Fabien Waltmann
Programmations and additional production: Fabien Waltmann
Keyboards and vocals: Lyn Byrd
Vocals: Étienne Daho
Bass, vocals: Nicholas Dembling
Guitar, vocals: Oliver Dembling
p 2019 Comateens
B SIDE
1: Get Off My Case (Fabien Waltmann's Edit Remix)
(Nicholas Dembling) DR
Produced by Norman Mighell
Recorded in 1983 at Power Plant Studios (London) by Norman Mighell
Remixed in 1996 at Olympic Studios (London) by Fabien Waltmann
Programmations and additional production: Fabien Waltmann
Keyboards and vocals: Lyn Byrd
Vocals: Étienne Daho
Bass, vocals: Nicholas Dembling
Guitar, vocals: Oliver Dembling
p 2019 Comateens
2: Sally Go Round The Roses (Makorosemix)
(Zachary Sanders / Lona Stevens) Winlyn Music Inc.
Lead vocals: Lyn Byrd, Étienne Daho, Nicholas Dembling
Programmations: Arnold Turboust
Recorded in 1996 at Olympic Studios (London) by Jeremy Wheatley
Mixed by Mako at Drop'in Studios (St. Jean de Luz)
Produced by Mako
p 2019 Parlophone / Warner Music France
3: Sleep
(Nicholas Dembling) Satori Song
Lead vocal: Étienne Daho
Guitar: Robert Johnson
Bass, organ: Nicholas Dembling
Backing vocals: Lyn Byrd and Nicholas Dembling
Recorded and mixed in 1996 at Olympic Studios (London) by Jeremy Wheatley
Produced by Étienne Daho and Comateens
p 1996, 2019 Parlophone / Warner Music France

1 Get Off My case
Etienne
1 Get Off My Case
2 Sally Go Round the Roses
3 Sleep
Etienne
Nic / Lyn / Etienne
Etienne