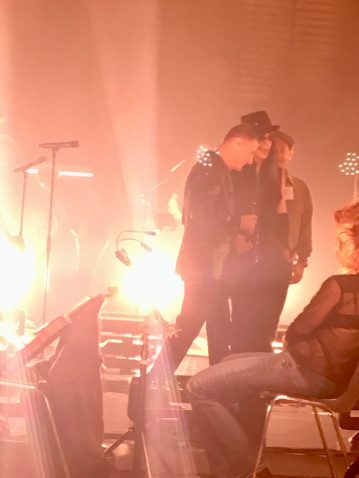 Comateens were excited to join French pop star Etienne Daho on stage during his Eden concert on November 11, 2019, for a final encore at the Paris Philharmonie, to perform Daho's new dance club-remix of Comateens big 1983 hit, Get Off My Case.
The supprise appearance of Comateens, their first performance in Paris in 29 years, was enthusiastically received by the 2,000 Daho fans in attendance in the hall's Grand Salon.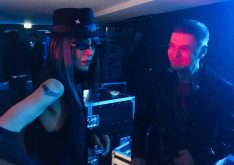 The new release of Daho's club-remix of Get Off My Case, is currently bundled with Daho's re-issue of his visionary 1996 album Eden, included as one of a number of rarities and unpublished works.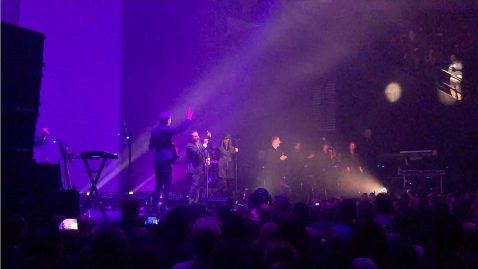 The current remix started its journey at the time of Eden's original production. Comateens were in London at Eden's 1995 Olympia Studios recording sessions. Lyn sang backup on a track and Nicolas wrote two hit songs that were on the album; Soudain and Me Manquer. Daho and Comateens earned a gold record for those efforts on Eden, but a few of their collaboration side projects never found their way into general release.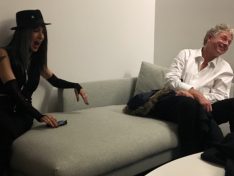 The new Get Off My Case is the first of those songs to be polished and released. In addition to digital downloads, it will be included on an upcoming vinyl EP entitled Comateens vs. Daho. along with Sally Go Round The Roses and Sleep, to be released this summer.
Comateens performing with Etienne Daho on his re-mix of Get Off My Case, the final encore of his Eden concert at the Paris Philharmonie on November 11, 2019. This full video can not be posted on social media currently due to current copyright issues.
This video includes footage shot from backstage by Altemus combined with videos shot by various members of the audience which were posted on instagram and solicited by Comateens to be included in this video project. If future video emerges it can be re-edited to be included.
Thanks to all those fans that contributed to this video;
Tuan-Phong Kim-Bonbled (tpk2425),
Xavier Delavaloire (xavier_delavaloire),
Taz Gwel (gweltas_official), gg1969@gmail.com  @wanadoo.fr,
Francois L. (eldecorator,
Nicolas Pinault (nicolas_pinault),
Patrica M. (sig_siga_sigalas),
Carmen Delvaloire (carmen_delvaloire)